Stage One:  Starting the Community
Miranda's Hearth was born on July 19, 2013 at a music, art, and wine night with five people tucked in a second story apartment during 90 degree weather.
Since then, we've continued hosting monthly gatherings to bring together our creative community around food, art, and music. Now called Hearth Dinners, these events happen every Second Sunday from 6:30-8:30 pm.
Stage Two: Expanding the Community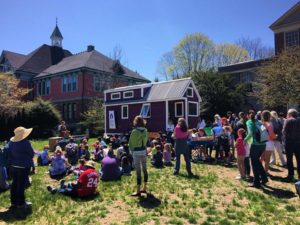 Once the monthly dinners were going strong, we decided to start interdisciplinary gateways into our community. From 2015 through 2016, our Embers started five creative monthly series: the Hearth Book Club, Write a Passage, Maker Monday's, Waltzdays, and Hearth to Hearth: An Article Discussion Group.
We also kicked off WhatIMake, our annual daylong celebration of makers, and built Aubergine, the Hearthmade Tiny House, as a public art project. Our tiny house project culminated in July 16, 2016 with the 2nd BIG Tiny House Festival, which drew nearly 3,000 people.
Stage Three: The Community Art Hotel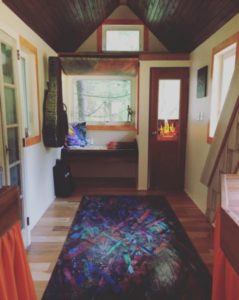 By the end of 2020, we plan to open the doors of the permanent home for our creative community: the first community art hotel where everything from the food to the furniture is handmade by local artists.
When visitors come and stay, they'll be able to buy what they use in their rooms, buy something like it from the gallery, or take a class and learn how to make it for themselves directly from the artist.
In addition to providing a home for our community and our weekly creative events, the community art hotel will be a center for cultural and economic activity that acts as a infrastructure to support artists as small businesses.
To learn more, send us an email at miranda@mirandashearth.com.