Join the Hearth Community for our second benefit, a Downton Abbey Murder Mystery Dinner Party hosted by Rebecca D'Antonio!

Rebecca D'Antonio is a Hearth Ember whose favorite activity is to host elaborate, themed dinner parties. In the past, she's hosted the Harry Potter Dinner for Miranda's Hearth as well as private dinners inspired by the Walking Dead, the Lord of the Rings, and many more.
This will actually be Rebecca's fourth Downton Abbey Dinner Party, but it's the first time she's opening her doors to the greater public. Costumes are encouraged, though not required, but a sense of mystery is a must! With the help of a crew of dedicated volunteers, we will be transforming the Democracy Center into a 1920's extravaganza complete with a surprising twist. Want to know more? You'll have to come to the event!
DETAILS
WHEN: Sunday, October 8 from 6:30 – 8:30 pm
WHERE: The Democracy Center, 45 Mt Auburn St, Cambridge, MA
ATTIRE: Costumes encouraged but not required, Downton Abbey was set in the 1920's but we're open to anything!
VOLUNTEER: We're looking for five volunteers to help make the mystery! Send us an email at miranda@mirandashearth.com if you're interesting in helping out at the event.
We have limited seating capacity available so get your tickets now as we expect to be sold out at the door! 
TICKETS
Tickets are $25 in advance or $30 at the door, get them while they last! Want to see more events like this? Add a donation to your ticket to help support Miranda's Hearth and our mission of building community through creativity.
---
The Democracy Center is partially wheelchair accessible, no accessible bathroom on site. The Mandela, Parks, and Chavez rooms are accessible, but the Library is not. Wheelchair users are welcome to use the accessible restroom at Daedalus while we plan our improvements for bathroom accessibility. To reach that bathroom, exit the ramp and turn left on Bow St, at the next building (Daedalus) use their accessible entrance and their restroom will be on the right. More information at: democracycenter.org/accessibility. Contact info@democracycenter.org or 617 492 8855 as needed
---
About Miranda's Hearth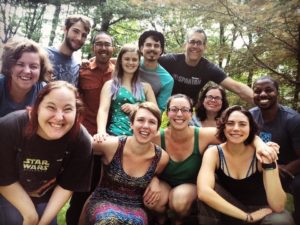 We are a multidisciplinary community devoted to empowering individuals through creative exploration and authentic relationships. Currently, we host six monthly events that each facilitate creative community building in different way: a community potluck, book club, dance night, makers night, writing night, and article discussion group. In addition to our monthly events, each year we host the BIG Tiny House Festival and put on WhatIMake, an annual day-long celebration of local makers.
Our long-term goal is to become the first community art hotel where everything from the food to the furniture is handmade by local artists. At the hotel, visitors will be able to buy what they use in their rooms, buy something similar in the gallery, or take a class to learn how to make it directly from the artist. Last year, The Hearth Community built a tiny house as a public art project. Once we have our hotel, Aubergine, the Hearthmade tiny house, will become our first hotel room.
Learn more at mirandashearth.com/about or by joining us at one of our upcoming events!