Join the Hearth Community at our weekly gathering from 7:00-9:00 pm every Monday!
WHAT TO EXPECT: A warm, welcoming community where you are encouraged to be creative and #justmakesomething.
WHAT TO BRING: Anything that you would like to work on! Ideas include –
– Something to make (a project or artwork)
– Something to share (food, drinks, games)
– Something to discuss (a book, article, or event)
SUGGESTED DONATION: $5-10 to support The Hearth Community!
WHERE: Canopy City, 14 Tyler Street, 3rd Floor, Somerville, MA.
This event is generously hosted and sponsored by Canopy City, a startup- and social impact- focused coworking space and technology incubator based in Somerville, Massachusetts; Lisbon, Portugal; and Beijing, China. 
---
CURRENT HEARTH PROJECT: YARN BOMBING AUBERGINE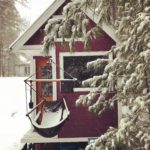 Need a project to work on? Help us with ours! The Hearth Community always has an on-going Hearth Project that we bring to our community nights. These are easy, accessible projects that you can walk in and work on any time.
Right now, we're spending our cold winter months knitting and crocheting pieces to yarn bomb Aubergine, the tiny house! Bring your needles and yarn or use some of ours and help us make something to keep Aubergine warm through the winter.
---
FAQ
How do I get there? Canopy City is located on the 3rd floor of 14 Tyler Street in Somerville, right between Aeronaut Brewery and Brooklyn Boulders. It's a 20 minute walk or a 10 minute bus ride on either the 83 or 87 from Porter Square!
Do I have to be artistic to come? Not at all! We believe that creativity is an innate human skill that everyone has. Whether you're a studied artist or avoid drawing at all costs, we welcome you to come, hang out, and make something.
What if I don't have something to work on? We always have an on-going Hearth Project for people to work on that is easy and accessible. We also have lots of games!
What is Miranda's Hearth? Miranda's Hearth is a social enterprise dedicated to building a community through creativity that is approachable, affordable and accessible. We run regular programming aimed at creative engagement, skill development, and community building. In addition, we're working towards becoming the first community art hotel, where everything from the food to the furniture is handmade by local artists. You can learn more about what we do here.