When:
June 14, 2015 @ 10:00 pm – June 15, 2015 @ 1:00 am
2015-06-14T22:00:00+00:00
2015-06-15T01:00:00+00:00
Where:
The Democracy Center
45 Mount Auburn Street
Cambridge, MA 02138
USA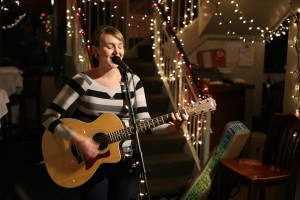 At the June Dinner, Art, + Music night we'll celebrate the second anniversary of Don't Make Art, Just Make Something. Rather than having another book talk, Miranda has decided to practice what she preaches and make something. Or rather, play something.
A practicing musician, Miranda was trained in classical piano for twelve years before jumping ship to start writing folk songs on guitar. Since January 2014, she has uploaded a new song to Youtube every month as an attempt to keep the music coming despite an increasingly busy schedule. (You can see some here: https://www.youtube.com/playlist?list=PL-ag5FeGVRb8GT7Dc7_gluK2hasRZFWbj)
Although she has performed as the feature at Open Mics and Farmer's Markets, Miranda has never taken the plunge to be the main feature of an event. At least, not musically. But what better place to do it than at the Hearth?
So mark your calendars and join us for Hearth Founder Miranda Aisling's first real concert. As always, we will have a potluck and a jam session after the feature. If you bring a dish to the potluck you can get in for free!
Tickets are $7 or get a ticket and a copy of the Sketchbook Edition of Don't Make Art, Just Make Something for $20.
Mark your calendars for future events, every Second Sunday from 6:00-9:00.