When:
January 28, 2018 @ 8:00 pm – 10:30 pm
2018-01-28T20:00:00-05:00
2018-01-28T22:30:00-05:00
Where:
The Democracy Center
45 Mt Auburn St
Cambridge, MA 02138
USA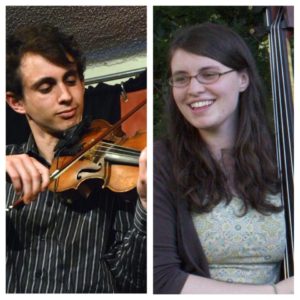 Happy New Year, everyone! Our Winter Break is over and the Hearth Community is back with a bang with two amazing local musicians.
Kirsten Lamb (double bass, voice) and Jon Cannon (fiddle) will perform favorite jazz, soul, blues, and country waltzes at Waltzdays on Sunday, January 28.
For the first time, we'll have a seating area as well as a dance floor so you can get up and dance or sit down and listen.
Want to learn how to waltz? We'll have two Hearth Volunteers available to teach the basics from 7:45 and through the end of the night.
ABOUT THE MUSICIANS
Kirsten Lamb is a double bassist, vocalist, and educator originally from northern New Jersey. Praised by the Huffington Post as a "brilliant young musician" and the Boston Globe for her "versatility and assurance," she has performed extensively throughout the United States and internationally playing folk, jazz, classical, and contemporary music.
https://kirstenlambmusic.com/
Jonathan Cannon plays fiddle with Ezekiel's Wheels Klezmer Band, Romanian quartet Mierlita, and with many contradance bands all over New England. He regularly leads klezmer jam sessions, fiddling and ear training workshops, and co-leads the planning committee for the annual New England Folk Festival. Jon also holds a PhD in mathematics and teaches math and science at Meridian Academy in Jamaica Plain.
http://joncannon.net/