On the last Wednesday of every month, the Hearth Book Club meets to discuss our latest book over tea and snacks at Blue Shirt Cafe in Davis Square. Our monthly literary adventures are all chosen Hearth Member Marika McCoola, a local illustrator and author.  As an author and a veteran of many book stores, Marika has a wealth of knowledge when it comes to books and always does her best to choose something that will interest the members of the group.





After each month's meeting, Marika writes a blog post to summarize the discussion and announce the book for next month.  Check the Book Club category of the Hearth Blog to catch up on our latest discussions.
In the hopes of seeing more of you at our book club meetings, here's the schedule for the next year. Next time you find yourself at a bookstore or library unsure of what to read next, considering snagging one of these books- we'd love to hear what you think!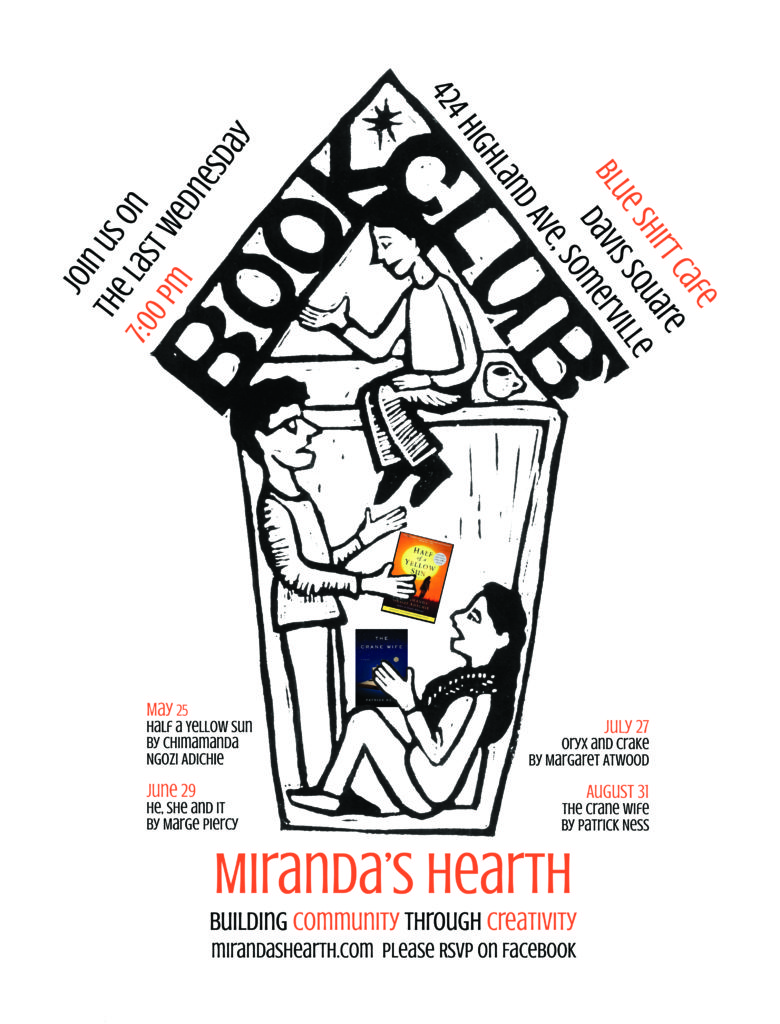 2016 Reading List:
January: Parable of the Sower by Octavia Butler
February: The Tenth of December by George Saunders
March: Dept. of Speculation by Jenny Offill
April: In the Shadow of the Wind by Carlos Ruiz Zafon
May: Half a Yellow Sun by Chimamanda Ngozi Adichie
June: He, She and It by Marge Piercy
July: Oryx and Crake by Margaret Atwood
August: The Crane Wife by Patrick Ness
September: 10:04 by Ben Lerner
October: Get in Trouble by Kelly Link