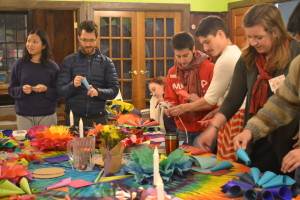 Miranda's Hearth hosts a different creative event every week in order to build a community through creativity that is approachable, affordable, and accessible.
Our six monthly series, Waltzdays, Maker Mondays, Article Discussion Group, Expressive Writing Night, Language Exchange, and the Hearth Book Club, take place throughout Cambridge and Somerville and are open to people from all professions.
Whether you're a professional artist or you've never picked up a paintbrush, there's a place for you in this interdisciplinary creative community.
Check the calendar below to see what's coming up next.
Nov
26
Sun
Waltzdays

@ The Democracy Center
Nov 26 @ 7:00 pm – 10:30 pm
Are you ready to WALTZ?
Join the community of Miranda's Hearth for our monthly Waltzdays! We gather at the Democracy Center in Harvard Square on the fourth Sunday every month for some 1-2-3, 1-2-3, 1-2-3ing.
Not only are there always splendid folks to dance with, we also have live music and an hour long lesson before the dance.
Details:
Waltzdays every fourth Sunday
Democracy Center, 45 Mt. Auburn St. Cambridge, MA
Lesson: 7:00-8:00pm
Dance: 8:00-10:30pm
Admission: $10 general, $7 students
All welcome!
Questions? Reach out to Hearth Member Matthew Reese, Waltzdays organizer, or check out our Facebook events.
We can't wait to dance with you!