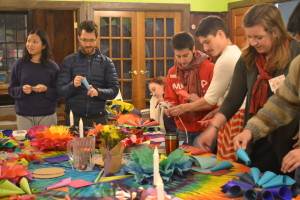 Miranda's Hearth hosts a different creative event every week in order to build a community through creativity that is approachable, affordable, and accessible.
Our six monthly series, Waltzdays, Maker Mondays, Article Discussion Group, Expressive Writing Night, Language Exchange, and the Hearth Book Club, take place throughout Cambridge and Somerville and are open to people from all professions.
Whether you're a professional artist or you've never picked up a paintbrush, there's a place for you in this interdisciplinary creative community.
Check the calendar below to see what's coming up next.