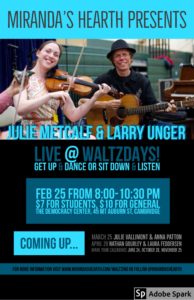 We're excited to welcome folk favorites Julie Metcalf and Larry Unger to perform a serious of toe-tapping waltz at Waltzdays on Sunday, February 25!
Get up and dance or sit down and listen during this creative community event hosted by Miranda's Hearth at The Democracy Center in Harvard Square.
Want to learn how to waltz? We'll have two Hearth Volunteers available to teach the basics from 7:45 and through the end of the night.
ABOUT THE MUSICIANS
Larry Unger has been a full time musician since 1984, and has presented a diverse range of musical performances at contra dances, Scottish dances, waltzes, dance weekends, dance camps, festivals, and concerts all across the United States and in Canada, France, Scotland, Denmark, and Sweden. He's one of the busiest musicians around, playing for more than 150 dances every year.
He has played guitar, banjo, and bass with many top bands for contra dances including Reckless Abandon, Uncle Gizmo, Big Table, and the Reckless Ramblers. He has also accompanied such fiddlers as Elke Baker, Rodney Miller, Alisdair Fraser, Matt Glaser, Ralph Blizard, and Lissa Schneckenburger to name a few. The bands Larry has been a part of might vary in style from Oldtime to New England to Celtic, but they are all lively groups with exciting rhythms and an emphasis on fun. They might also play some of Larry's many original fiddle tunes.
http://www.larryunger.net/
Julie Metcalf, fiddler and violist, can often be spotted at contra and English dances in the Boston area, either on stage playing fiddle or on the dance floor. Coming from a family of musicians, she was encouraged to make music from an early age; Julie picked up the violin for the first time when she was 4 years old and has been playing ever since. Julie holds a degree in Violin Performance from Berklee College of Music, where she studied traditional and contemporary styles music. She has played Celtic chamber music with the Folk Arts Quartet and Mexican music with Boston's Mariachi Palenque. Julie currently performs with the Agnostic Fiddle Insurgency and The Gig Hunters. Julie is also an accomplished jawharp player. She plays jawharps from around the world, as well as other unusual instruments including the marxolin and mouth bow, in concert with Larry Unger.
_ _ _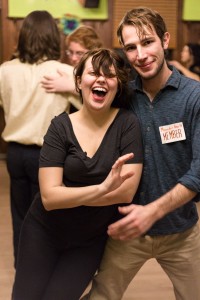 When: 8:00-10:30 pm, Fourth Sundays
Where: Democracy Center, 45 Mt. Auburn St. Cambridge, MA
Admission: $10 general, $7 students. All welcome!
Transportation: The Democracy Center is right on the red line in Harvard Square! Parking can be tight, but all the metered spots are free because it's Sunday!
Photos: We'll be taking photographs during the lesson and until the break at 9:15. Check our Facebook page after the event to see if we caught you twirling. The second half of dancing is photo-free!
Questions? Reach out to Hearth Member Matthew Reese, Waltzdays organizer, or check out our Facebook events.
---
The Democracy Center is partially wheelchair accessible, no accessible bathroom on site. The Mandela, Parks, and Chavez rooms are accessible, but the Library is not. Wheelchair users are welcome to use the accessible restroom at Daedalus while we plan our improvements for bathroom accessibility. To reach that bathroom, exit the ramp and turn left on Bow St, at the next building (Daedalus) use their accessible entrance and their restroom will be on the right. More information at: democracycenter.org/accessibility. Contact info@democracycenter.org or 617 492 8855 as needed
---