When: Every Fourth Sunday
Beginner AND Intermediate Lessons: 7:00-8:00 pm
Dance: 8:00-10:30 pm
Where: Democracy Center, 45 Mt. Auburn St. Cambridge, MA
Admission: $10 general, $7 students. All welcome!
Transportation: The Democracy Center is right on the red line in Harvard Square! Parking can be tight, but all the metered spots are free because it's Sunday!
Accessibility: The Democracy Center is not wheelchair accessible, all entrances have 5-6 steps.
Photos: We'll be taking photographs during the lesson and until the break at 9:15. Check our Facebook page after the event to see if we caught you twirling. The second half of dancing is photo-free!
Questions? Reach out to Hearth Member Matthew Reese, Waltzdays organizer, or check out our Facebook events.
---
THIS MONTH: WALTZING THE BLUES WITH AMY KUCHARIK
Sunday, July 23 from 7:00-10:30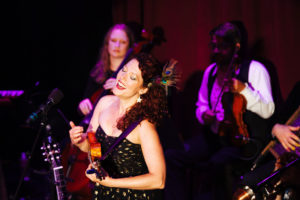 That's right, folks.
After an awesome DJed Waltzing the Blues night in February, we're bringing it to the next level with live blues music by Amy Kucharik!
Amy has been working overtime to beef up her repertoire of blues music in 3/4 and we need you to come out and show her how much we appreciate it!
RSVP to the Facebook event to let us know you're coming!
Want to waltz? We've got you covered.
Want to blues? We hope you will!
Want to combine the two? We can't WAIT for it!
Don't forget to bring your friends! This is a beginner-friendly event with a lesson before the dancing, so "I haven't waltzed before!" is not a good enough excuse for you to stay home.
ABOUT AMY
Kerrville New Folk winning songwriter and performer Amy Kucharik [/kuh-CHAR-ick/] energizes swing dance, folk festival and listening room audiences alike. Drawing from blues, folk and Vaudeville traditions and with a street-smart stagecraft honed in the subways of Boston, Amy transports her audience to a place both timeless and familiar, but nevertheless innovative.
THE DETAILS
7:00-8:00 pm:
Beginner Lesson on Waltzing Basics with Matthew Koslowski
New to waltzing? The hour-long beginner session will teach you the basics and all you need to know to make your way around the dance hall. No experience needed.
Intermediate Lesson on Waltzing the Blues with Clayton Jennings:
Love to waltz? Love to blues? Learn how to put the two together! Some experience required.
---