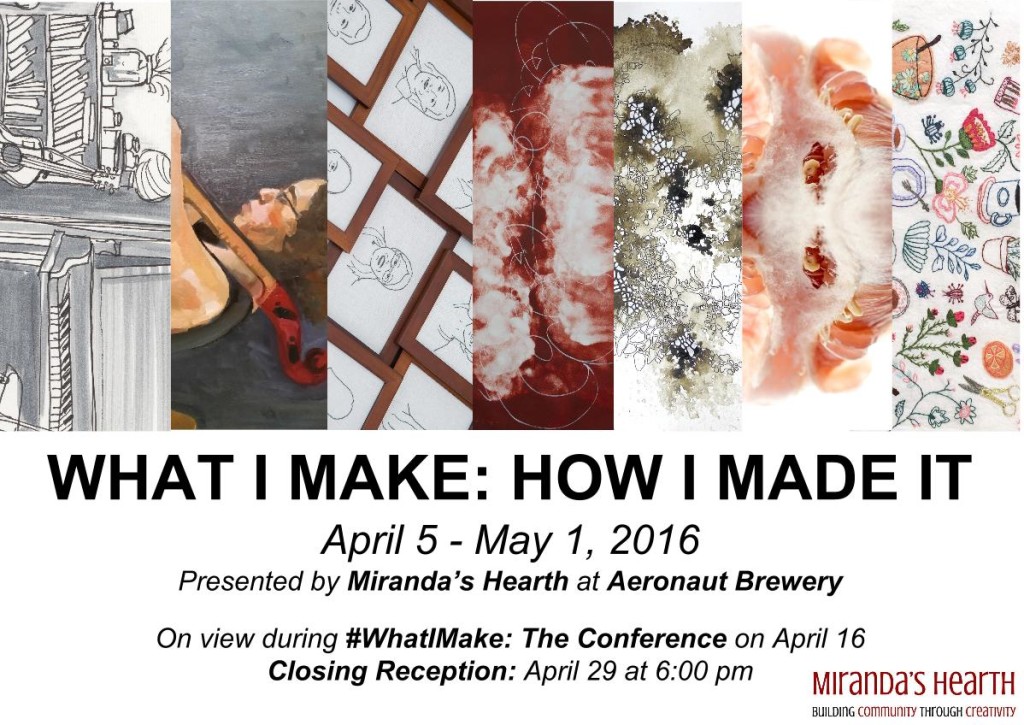 At Miranda's Hearth, we believe that making is a meaningful act. In this show, we are interested in the story behind the art as well as the work itself. Each art piece is displayed with a 250 word description of the story/process behind the work. The show displays a diverse set of stories of what making can entail, from conceptual pieces to formalist process-orientated works to crafts to non-traditional art.
Molly Atryzek
Jim Baab
Nat Bearg
Angela DeCarlis
Emily Garfield
Amy Beth Harrison
Miranda Aisling Hynes
Lauren Leon
Laura Meilman
Elizabeth Menges
William Turville
Michelle Thomas
Ben Warren
Jaclyn Wood
This show is presented in connection with 
#WhatIMake: The Conference
 on April 16 hosted by Miranda's Hearth at Aeronaut Brewery. The conference pairs inspirational talks by local makers with hands-on workshops and ends with a post-conference bash.
Friday, April 29, 2016 at 6:00 pm
Aeronaut Brewery
Live music and local beer!
ON VIEW DURING:
#WhatIMake: The Conference
Saturday, April 16, 2016
Inspirational talks and hands on workshops from local makers
Somerville Open Studios
April 30 and May 1