Quick Information Guide:
Exterior Timelapse Video: The Two Minute Tiny House
What does it cost to build a tiny house?
Why do people build tiny houses?
2nd BIG Tiny House Festival: July 16, 2016
Weekly Blog
ABOUT BIG ART; TINY HOUSE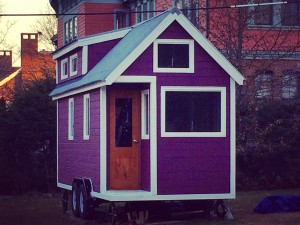 BIG Art; Tiny House is yearlong public art project that highlights the functional forms of art rarely seen in more traditional venues. At Miranda's Hearth, we believe that art isn't just nice, it's necessary. To demonstrate this, we are building a tiny house on the front lawn of The Umbrella Community Arts Center in Concord, MA and filling it with handmade objects crafted by local artisans. Simultaneously, we are exhibiting a second, fully-completed tiny house built by InRiver Retreats. By exhibiting the full creative process of building and filling a house, we are drawing attention to the creative fields of architecture, woodworking, pottery, quilting, interior design, and weaving, to name a few.
Our goal is to help people of all ages recognize the role that art plays in their daily lives, even when they don't know it's there. By engaging the community in this project from start to finish, we are cultivating the awareness that everything around us was at some point made by someone and that many of these artisans are right here in our local community.
On April 9, 2015 the Concord Zoning Board of Appeals approved a special permit that will allow us to build our tiny house on the front lawn of The Umbrella.  We started building on June 13, 2015 and had the exterior finished by November 21, 2015.  Our goal is to finish the interior by June 2016.
In the long-term, BIG Art; Tiny House will become the first hotel room for the fully-realized vision of Miranda's Hearth as the first community art hotel.  We are hoping to find land to start this project within one to two years within an hour of Boston and can't wait to invite you all to stay!
ABOUT BIG ART AT THE UMBRELLA
The Umbrella's BIG Art Project started in May 2012 as an annual outdoor large-sculpture exhibit that uses art to encourage dialogue and animate the front lawn of the property. For the past two years, The Umbrella has been home to David Stromeyer's exhibition, Shaping the Void.
ABOUT TINY HOUSES
The growing Tiny House Movement emphasizes conscious, simple living and coincides with the environmental movement, the buy local movement, and the makers movement. Our specific building plans are for an 8' by 20' Cypress Tiny House, designed by Tumbleweed Tiny House Company, on a professionally welded trailer. The peak of the roof will be 13'4", well under the Interstate System's minimum vertical clearance of 14', and the utilities will all be self-contained. At no point during the yearlong installation of BIG Art; Tiny House will the tiny house be used as a residence. At the end of the project, the tiny house will be driven off the premises and used as the first hotel room of Miranda's Hearth.
For weekly updates of the build process, check the BIG Art; Tiny House blog.