– written by Hearth Founder, Miranda Aisling
It's officially happened, I have become one of those people: The Tiny Housers.
Over the past two years, I have shifted from merely curious to hopelessly entangled with the tiny house world. It started in November 2013 when I first saw one of the multitude of tiny house articles. This specific article described a couple out in Portland, OR who built their own tiny house after realizing that in their 10 years renting they had spent over $60,000 never to be seen again.
The article prompted me to do the math about my own renting history, which quickly convinced me to buy a ticket to the June 2014 Boston Tumbleweed Workshop.  At the workshop, I networked with local tiny house enthusiasts, realized that I could (probably) build one of these things myself, and distributed information about the BIG Tiny House Festival I was hosting with the Somerville Arts Council (how that happened is an entirely different rather strange story).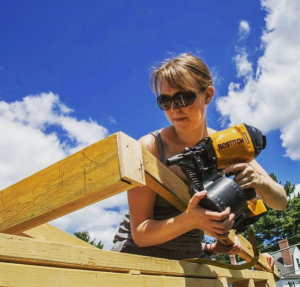 Then September 2014 came around and I was working as a Workshop Host for the Tumbleweed Tiny House Company and firming up my own building plans. A zoning board meeting in April 2015 led to groundbreaking/trailer insulating on June 13, 2015 and off I went.  Now I sit at my desk everyday, a white-trimmed purple tiny house surrounded by snow on the front lawn outside my office window. Who would have thought?
During my tiny house journey so far, I've been surprised by the variety of people who share my dream.  By all means, I've met plenty of my fellow overly educated, ambitious, and independent women in their 20's-30's, but we are far from the only group building tiny houses.  It seems that people are drawn to this way of living for one of three reasons.
The Economy: Living in a tiny house can cut your your cost of living in half.
The Environment: Reducing your footprint to support the earth.
Simplicity: Owning less, focusing more on experience over materials.
The other common denominator among tiny house builders is that they are at the end of a life stage.  Recent graduates, empty nesters, retirees, divorcees, and anyone else who feels a need to reassess how they live their life all start to feel the tiny pull.
Whether all of these people end up living in tiny houses or not, it's an important opportunity to think about how you're living and why you're living that way.
—
Learn more about our project, BIG Art; Tiny House.