Rather than make a vague New Year's resolution to "read more," try to keep it simple and join Miranda's Hearth in reading a book a month this year as a part of the Hearth Book Club! Each month, we'll select a work of fiction that relates to art, creativity, and community. Once you've read the book, join us for a monthly book discussion and share your thoughts with the community.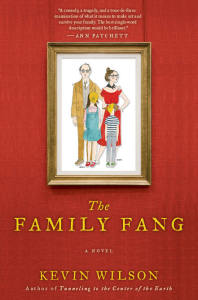 Marika McCoola will be selecting books and moderating discussions at the Hearth Book Club. She's an author, illustrator, and bookseller who's enthusiastic about connecting with people through literature. Her selection for January is The Family Fang, by Kevin Wilson. This dramedy is the story of two performance artists who incorporate their children into their artwork and ultimately believe that their life is a work of art. It's hilarious, engaging, and certain to inspire discussions of the role of art in one's life.
Pick up your copy of The Family Fang and join us at 7:00 on Wednesday, January 28th at Diesel Cafe for a rousing discussion of the book.  If you can't join us in person, we'd love to hear your thoughts online.  Please RSVP on Facebook to let us know you're coming!