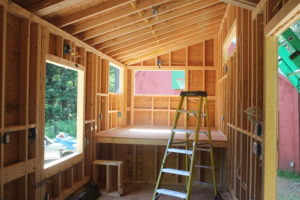 With only a few days left until the 2nd Annual BIG Tiny House Festival, we here at Tiny House Crafters are hard at work putting up the siding and running the utilities in our 8×26' Nova Tiny House.
The Nova is unlike anything we have built before. Instead of a traditional lofted sleeping area (like in our Rodrigue model), the Nova features a split-level sleeping platform with full standing headspace. Beneath the sleeping platform – cantilevered 2 feet off the trailer for maximum interior square footage – is storage space accessible from inside and outside.
The Nova is all electric, ready for a 50 Amp hookup or solar. No propane system means no nasty off-gassing from combustion appliances like ranges, heaters, and hot water heaters. However, the Nova will be equipped with a full kitchen with an induction cooktop, convection oven, and plenty of counter space.
Large windows let the natural light stream in. The bathroom will feature a Nature's Head Composting Toilet and a 32"x32" fiberglass shower stall, fed by a 12-gallon hot water heater stashed away in the storage loft above the bathroom.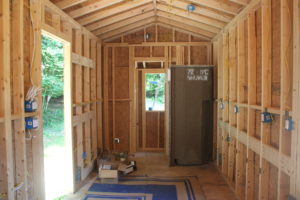 Worried about the winter? After the festival, the Nova will be completely spray foamed by VFI, Inc. for an R-value of 20, which, paired with two Comfort Cove radiant heaters, will keep the 200+ square feet of interior space very toasty. A state-of-the art TwinFresh Energy Recovery Ventilator, Cor-a-Vent rain battens and screen, and spray foam insulation is the perfect combination of building science to combat mold and excessive condensation issues common in tiny homes.
We are so excited to have the opportunity to present you with the "bones" and "nerves" of a tiny home. At the festival, you will be able to take a rare look at the electrical lines, framing, and sheathing. And though the exterior will be trimmed and sided in delicious cedar with espresso and gray stain, a portion still have the rainscreen system exposed to show how it will keep the siding nice and dry.
We can't wait to meet you at the festival. Don't forget that the Nova is for sale!! If you are interested in buying it right away, we would love to work with you to finish the build to your liking. Need your own trailer? Check out J&J Trailers and Truck Equipment, our dependable tiny house trailer providers.  They'll also be at the festival!
Drop us a line if you would like to learn more, or better yet, let's meet up this weekend at the 2nd BIG Tiny House Festival!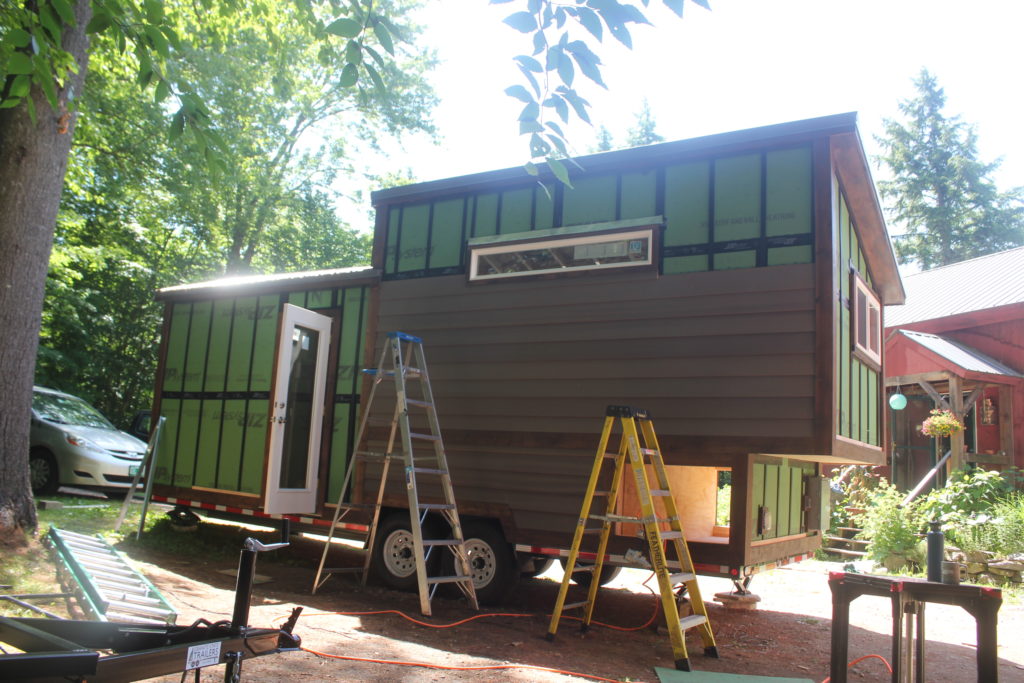 – – –
Written by Kate Ziegler of Tiny House Crafters
Meet the Tiny House Crafters of Vermont and see their next tiny house project, the Nova, at the 2nd BIG Tiny House Festival on July 16, 2016 at The Umbrella Community Arts Center in Concord, MA.
– – –