CORY ALLEN STAATS
Founding Member
Musician
What's your story?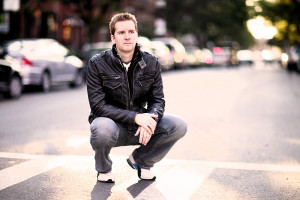 I grew up first on California's central coast. My family moved to the northeast when I was in high school and I've mostly stayed here since. I found a brochure for the "Summer Sax Weekend" at Berklee College of Music my junior year. After that I was hooked. Originally I planned to major in Music Production and Engineering, but my first year at Berklee led me to a love of songwriting. I took a three year hiatus after my third year at Berklee because I needed to find my focus. Even though I knew I would be making music, I couldn't see a clear path through all the choices to where I wanted to be once my career began. During this time I started paying my own bills, working as a chef full time, I got married, and wrote my first 15 or so songs.
Cynthia and I moved permanently to Boston in 2007 and I resumed classes at Berklee the following year. The Songwriting Major was an obvious choice but I didn't think it would be enough. Somehow I got the idea that adding Film Scoring, as a double major, would greatly improve my songwriting because film music is very emotional and directly involved in telling the story. Little did I know that it would be one of the most important decisions of my life. Once I got into Film Scoring, everything seemed to click into place.
What do you make?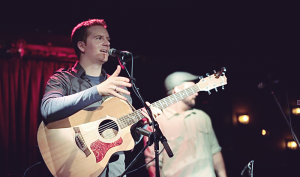 This is a hard question to answer. Not for lack of things to choose from, but because there's too many! Music. Music was the first, and will be the last. I started building websites in 6th grade, and still do my own graphic design and coding in HTML5. Live music is my jam. I've been working in live sound professionally for 13 years. My favorite day of the week nowadays is Sunday when I get to run sound for the worship band at our church. Cynthia and I also started getting into photography/videos as a means of promoting my songs on youtube. We've come a LONG way since our first. terribly low quality, videos to now. (check out the last music video we made with our friends So Long Solo – a cover of Skyfall by Adele)
That brings us to now. I have my own company, Obsidian Asylum Productions, and I split my time between working on records, videos, live concerts, photographing live events, running a weekly open mic and working at Berklee in the Film Scoring recording studios. Somewhere in there I try to carve out time for songwriting and working on my own four song EP.
How did you get involved with Miranda's Hearth?
My good friend Dayley invited me to go with her to a Music Art & Wine Night. Such a brilliant time was had that we decided to make it as often as possible! And if I'm speaking honestly, Miranda is the lady with the vision. I think my greater involvement has come about because I've serially decided to make myself available when Miranda has a good idea. And, I don't plan on stopping anytime soon!