KLYA ALTERMAN
EMBER
What's your story?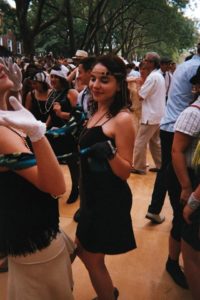 I grew up in Manhattan where my parents had my older brother and I constantly enrolled in some sort of arts activity. I started with chorus at the age of four and piano at five. Outside of my weekly music lessons I spent seven summers in Sweden, Maine at music camp where I explored the flute, singing, drums, and theater. Throughout high school and college I was involved in band, choruses, dance, musical theater, creative writing, and drawing. At the University of Delaware I majored in International Relations with a minor in Theater. I had the amazing opportunity to study steel pan (drums) in Trinidad and Tobago for five weeks and then continue playing for a year in Delaware Steel. Since college I've found it harder to flex my creative muscles the way I used to. I got much more into physical activities like running, yoga, and hiking and quickly saw my dedication to the arts fall away. Right now I am on a quest to reclaim my creative mojo.
When I look back on my International Relations studies I am disappointed that creative thinking was not a cornerstone of our curriculum. We need creativity now more than ever to reform and rebuild our social structure and policies. One of my favorite things to do is sit around with my partner, Martin, and our friends and re-imagine economic, political, and educational systems.
What do you make?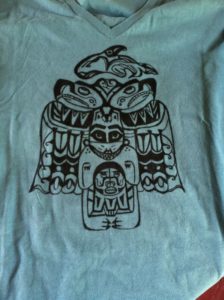 These days I mostly draw (nonsensical and/or nature-themed), making cards and t-shirts for my friends and family. Over the last few years I have developed a serious passion for cooking. I am a vegan and I love the creativity that comes with rethinking the food I grew up eating and making delicious, plant-based feasts. I love to come up with stories and games.
I sing in a chorus and try to sit myself down at the piano and learn a new song to sing along to now and then. I hope to get back into making jewelry with my mom, acting, dancing, playing in a band, and writing poetry and songs. I want to devote more time to drawing and exploring paint and color.
How did you get involved in Miranda's Hearth?
I heard about Miranda's Hearth through Hearth Ember Matt Pacewicz who I met through my free fitness community, November Project. I moved to the Boston area from NYC in September 2016 and was on the hunt for friends and stimulating community. I started attending Hearth dinners and Maker's Mondays at the Artisan's Asylum. I knew this would be the perfect community to hold myself accountable to my creative goals, help me learn and grow as a person, make me more confident in what and make, and feel welcomed in my new Boston home. I'm so excited by the possibilities this community can bring to my life and to the lives of Boston residents. I am fascinated by the power of local community and look forward to growing and strengthening the Hearth while examining what makes meaningful community and how can communities be leveraged into change-making.