– written by Hearth Ember, Amy Beth Harrison
Ann Patchett was someone I already admired before starting Commonwealth. I knew her from Bel Canto, a very memorable read, and then heard the story of how she opened her own bookstore because the last bookstore in her hometown of Nashville closed. Despite being an author rather than a businessperson, she declared that she couldn't live in a city without a bookstore and decided to do something about it.
I picked up my copy of Commonwealth with high expectations and found it both well crafted and compelling. The book is a weaving of different stories throughout time and between characters. A master story-teller, Patchett leaves out some details until the very end, making the book surprisingly addictive and a very quick read.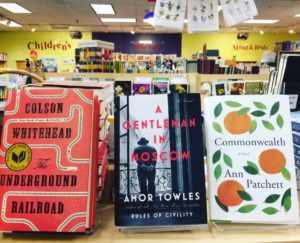 In Commonwealth, divorces and affairs combine with a strong vein of parental neglect to create complexity in the lives of children from two sets of parents. Great opportunities and great losses are incurred from the mishmash of their families.
The book belies easy interpretation, which will make for a great discussion during our Hearth Book Club meeting on March 22. I was impressed with how the messiness of life can create deep relationships from unexpected proximity to other people.
Another theme Patchett plays with revolves around the interplay between personal happiness versus responsibility. We'll be discussing the various themes throughout Commonwealth on March 22nd at 7 pm at the Arts of the Armory cafe. Hope to see you there!
---
The Hearth Book Club meets the fourth Wednesday of every month from 7:00-8:30 pm at Arts at the Armory.  Check our book club list to see what we're reading next and support your local bookstore by buying your copy at Porter Square Books!
Don't have time to read an entire book each month?  Join us for Hearth to Hearth: An Article Discussion Group on Second Wednesdays at 8:00 pm!