written by Hearth Board Member, Nina Earley
"Letters to a Young Poet" by Rainer Maria Rilke
90 pages, very quick read 4-6 hours total
I gave this book to my brother as a gift when I first moved away from home; I think he must have been 15 or 16. I'd like to think it had something to do with his decision to study philosophy, and later become a musician and songwriter, though I may be giving myself too much credit. I do, however, absolutely believe that this book could change the course of a young creative life, and I don't think Rilke realized quite the impact these letters would have. That being said, I never actually read it myself until now, though I always meant to.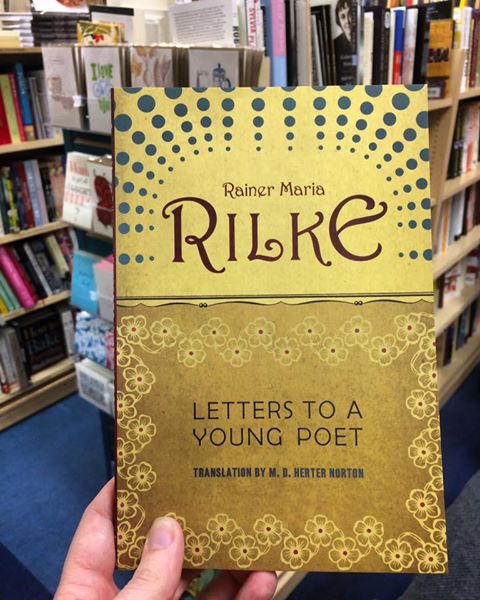 While these letters include lots of advice, they can't be labeled self-help exactly. Rilke has a way with prose, and his words create beautiful glimpses into his own life, which, while filled with creativity, was not always easy. One thing I find astonishing is that he wrote these letters when he was in his late 20s, responding to a teenage student at the same academy he attended when he was younger, connected through a teacher. His advice is eloquent and wise, and quite impressive for a young writer. He does not sugarcoat the difficulties of a writer's life, but remains encouraging nonetheless.
The book is divided into a short introduction, the 10 letters from Rilke, and a chronicle section which dives deeper into the correspondence. It is a quick read, so I will keep this brief so as not to give anything away. I am looking forward to discussing it with you all at the end of the month.
---
The Hearth Book Club meets the fourth Wednesday of every month from 7:00-8:30 pm at Arts at the Armory.  Check our book club list to see what we're reading next and support your local bookstore by buying your copy at Porter Square Books!
Don't have time to read an entire book each month?  Join us for Hearth to Hearth: An Article Discussion Group on Second Wednesdays at 8:00 pm!