written by Hearth Founder, Miranda Aisling
Last month, the fifteen Hearth Embers met for our annual meeting to discuss why we do what we do. Out of all the organizations we can be a part of and all of the events that we can go to, what is it that continually draws us to the Hearth?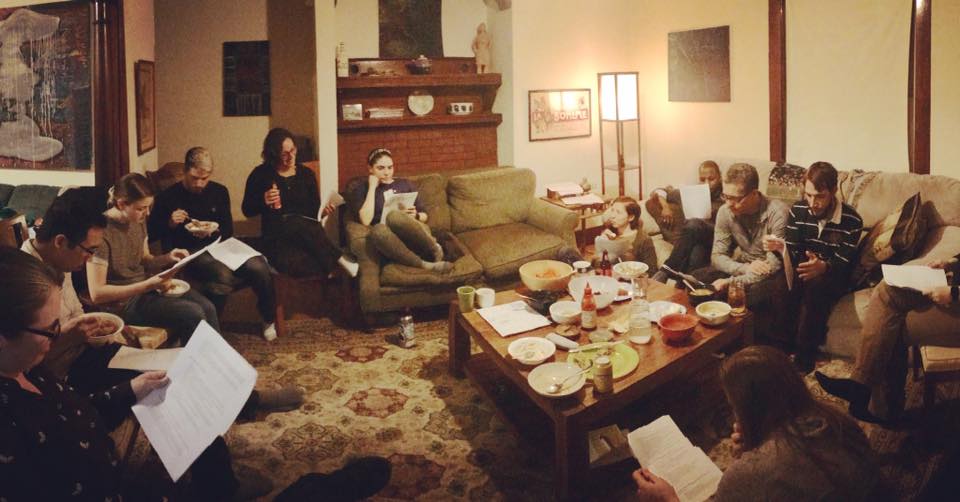 Over two hours, in both small groups and a large group discussion, the Embers formed the first community statement for Miranda's Hearth:
"We are a multidisciplinary community devoted to empowering individuals through creative exploration and authentic relationships."
The most important part of this exercise is that, as the founder, I wasn't part of it. The deep thoughts, careful words, and thoughtful conversation all came directly from the community. The Embers carefully considered each word to capture the essence of our community as closely as possible. While I normally call Miranda's Hearth a "creative community," The Embers leaned towards multidisciplinary because so many of our community members are not artists first. While they emphasized the belief that everyone is creative, they also recognized that creativity can feel daunting for many people.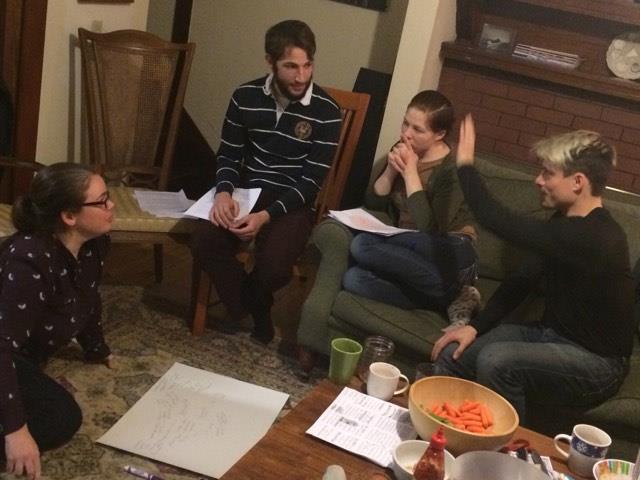 They also thought long and hard about where to put the word community.  Are we a community made of individuals or a group of individuals who form into a community? The semantics may seem unimportant, but the emphasis directs our daily action and engagement. The Embers agreed that at Miranda's Hearth we are a community first, but a community whose strengthen is drawn from the varied and unique individuals that are part of it. In our individuality lies the source for the creativity and community at the heart of our  mission.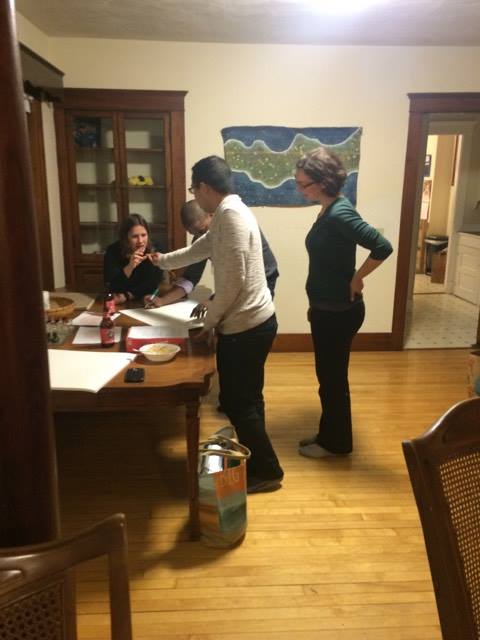 The one element they didn't end up including was the concept of continuity. Unlike so many other creative happenings in urban environments, Hearth Events are part of a broader, long-term concept.
Many of the Embers have already been involved for up to three or four years and they see their engagement stretching out for a long time. But the continuity, with its on-going support, is so heavily implied they felt it didn't need to be included. This is what we are, a community to be part of, a place to always return to.
Before returning to the large group, each small group came up with their own community statement which, listed below, highlight even more of the core of our community:
"We are a multidisciplinary creative community devoted to living well be empowering its members. Our community values are: connection, support, sustainable relationships, authenticity, and comfortability."
"Miranda's Hearth is a social, lower-pressure environment that offers a spectrum of opportunities for people who are curious about creativity. We make spaces to make."
"We are a group of driven, positive, creative people who share knowledge, exploration, and fun activities. We are authentic, intentioned, and open to new ideas that encourage growth and development for new and existing members of the community."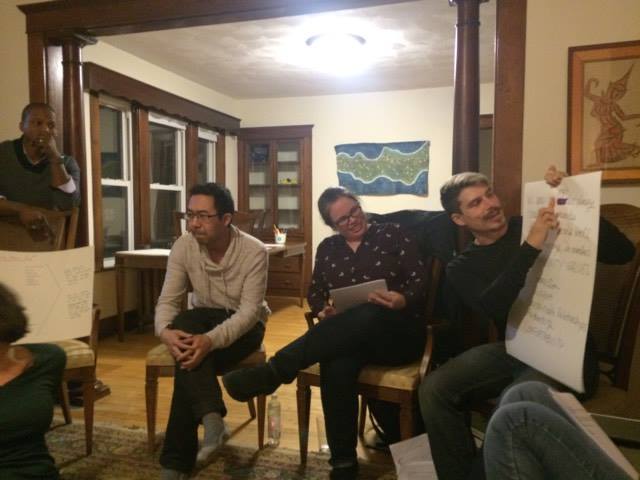 The Embers meeting was just one step in our unending search to define ourselves. Right now, students from Clark University are conducting a market research study to learn more about all of the different people who chose to spend some portion of their lives engaged with the Hearth Community. Important as The Embers are, they are only a small portion of the folks who talk, eat, read, make, dance, and write with us and we want to hear from everyone!
Please take 10 minutes to fill out our survey so we can know learn more about you and through your story about our community.
In gratitude for your time, everyone who takes the survey will get a 25% discount to WhatIMake: 2017 on April 22.
Whether you come every month, grabbed dinner with us once, visited Aubergine the Tiny House, or just signed up for emails because you thought The Hearth Community sounded cool (it is, we promise), we want to hear from you!