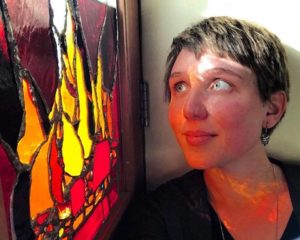 It's with equal parts excitement and trepidation that after over four years working full-time at The Umbrella Community Arts Center, I'm taking the dive. That's right. Starting on December 15, I'll be working full-time on Miranda's Hearth.
Miranda's Hearth is a social enterprise dedicated to building a community through creativity that is approachable, affordable, and accessible. We operate simultaneously on two intertwining levels: our non-profit arm, The Hearth Community, offers free or low cost creative programming while our for-profit arm, The Hearth Hotel, plans to offer hotel rooms where everything from the food to the furniture is handmade by local artists.
Once we've found our building, these two pieces will work together to create a self-sustaining, community-based arts business that gives back through community engagement and economic stability.
In October 2016, we founded our Board of Directors and in January 2017 we started a location feasibility study to find our permanent location. After eleven months of initial searching and four years of programming, we've found our first possible building (more details coming soon!) Because of the huge amount of growth we've experienced, especially in the past two years, I've decided that it's finally time to put my all into this business and see what we can accomplish.
I have greatly enjoyed my four years at The Umbrella and have appreciated the opportunities for growth and experimentation along the way. When I finished my master's program in 2013, I realized that I would need extensive administrative experience or education to start my own community art business. Looking at my student loans, I wasn't eager to get another master's degree in arts administration and I was grateful to find an employment opportunity that would allow me to gain important administrative experience while also supporting myself financially.
In addition to everything I've learned on the administrative side, I have been part of a truly rich community of artists whose company and creativity have been a constant education. While I'm incredibly excited to start this next step in my journey, it will be hard to say goodbye to a place that has been my home for so many years.
I want to extend a deep, deep thank you to everyone at The Umbrella, the Hearth, and beyond who has worked with me to get this far. I couldn't have done it without the contribution of each of our community members. I am constantly humbled and thrilled to see so many talented people working alongside me to achieve this dream.
Want to get involved? Now is the time! We're looking for two-three more board members as we push forward with our location feasibility study. If you're interested, check out this post or drop me a line.
In order for myself and the Hearth Board of Directors to focus on our strategic planning for next year and the future, we will take a short Winter Break from our regular Hearth Programming starting after Thanksgiving. But keep your eyes open for 2018 because friends, you ain't seen nothing yet!