-written by Hearth Member Marika McCoola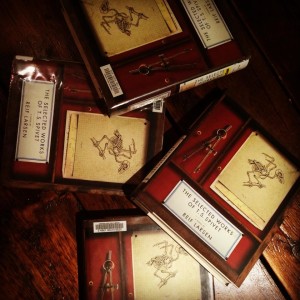 The problem with The Selected Works of T.S. Spivet, is that once you start writing down your favorite quotes, you can't seem to stop. This seemed to be a common experience for those who read our February bookclub pick by Reif Larsen. The illustrated novel is narrated by T.S. Spivet, a prodigious twelve year old cartographer who has recently been granted an award by the Smithsonian- only the Smithsonian doesn't know that he's a child. Spivet can only think, "Life was too busy to dwell on things like age, but at this moment, faced with a great misunderstanding fabricated by grown-ups, I suddenly felt the full weight of my youth painfully and acutely" (26). But age doesn't stop him from setting out on his own to accept his award. Each page features sidebars and diagrams- Spivet's way of mapping the world he lives in. The dense, descriptive language and diagrams invited us to linger over every page.
The diagrams and maps in this book, though placed in the wide margins, are connected to certain passages of text. Many readers found that this correlation between text and image was one that needed to be experienced in a physical copy of the book. Indeed, the squarish format was chosen to support this relationship. This always makes me think of Sullivan's adage: "form follows function." The form of this book supports the narrative structure in an interesting way. It also goes to show that sometimes a text must be a physical book.
Those who attended loved this book, though each had a particular layer of the story that was loved, or a map that was returned to. Everyone who attended confessed to sending quotes and photos of the book to friends, having to share moments of the text with just the right person, making the reading experience itself a shared one. It was this that struck me; we generally consider reading (unless done aloud, which occurs less frequently with age) to be a solitary activity. But when one shares the reading, or comes together to discuss a book, it can become even more than a dialogue. On that note, if you weren't able to join us, we'd still love to hear your thoughts in the comments!
Some favorite quotes:
"Mapping was not an act of forgery, but of translation and transcendence" page 57.
"To close yourself off to what is possible is to kill part of yourself, and that part of you will never grow again" page 234.
"Adults were packrats of old useless emotions" page 304.
Our next book is Hector and the Search for Happiness by Francois Lelord. I'd love to hear what you think at our next bookclub meeting on Wednesday, March 25th at 7pm at Diesel Cafe in Davis Square. It's a short book, so don't let time deter you!