–written by Hearth Member, Marika McCoola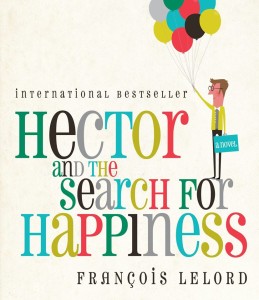 Our third Hearth book club selection was Hector and the Search for Happiness by Francois Lelord. The book follows Hector, a psychiatrist, as he travels the world searching for what makes people happy. Specifically, he's looking at why his well-to-do, secure clients are unhappy with their seemingly stable lives.
While the book had enjoyable moments, most people found that they wanted more from the story. The book is written by a narrator who feels removed from the story, possibly Hector a few decades after his travels. The removed narrator gives a rosy glow to everything. The lack of immediacy and human flaws in the novel make us care less about Hector and his journey.
Perhaps this removal from the story had much to do with us as readers- we're not the target audience of this story. Rather than drawing immediate conclusions from this, we'd be interested in hearing from a greater range of readers. Certainly the palette and stylization of the cover bring to mind 1960s and 70s animation- perhaps trying to appeal to an audience who feels genuine nostalgia for this era.
Part of the simplicity of the language (which has drawn comparisons to The Little Prince) results to referring to countries by descriptors such as "The country of more," women as "girls", and sex as "what people in love do." As a book for an adult audience, the choice to use these terms is uncertain. It also means that once you start with a post-colonial or feminist critique, the entire book begins to unravel. Rather than leave you with this, I must say that we're interested to see how the handling of the movie deals with these elements…I promise a post when we finally have a chance to view it.
On to next month! Please join us on Wednesday, April 29 at 7pm at Miranda's Apartment (email mirandashearth@gmail.com for the address) to discuss A Visit from the Goon Squad by Jennifer Egan. This novel explores the music industry through the eyes of interconnected characters. My favorite quote thus far: "People and instruments and beaten looking equipment aligning abruptly into a single structure of sound, flexible and alive" (page 22). Hope to see you on April 29!