STEVEN HOSKING
Former Hearth Member 
Expressive ( artist ) ( performer ) ( therapeutic guide )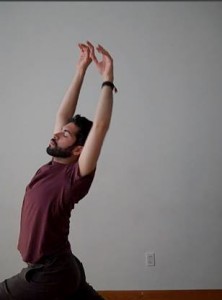 What's your story?
I grew up in the forests of southern Connecticut and would always play in the woods as if I were some mystical-creative-nature-warrior of sorts. Turns out, I wasn't that far off, still haven't developed those mystical powers yet, but working on it. My father is a professional watercolor artist who would play show-tunes throughout the house when I was young and my mother is an elementary school librarian who admired the world of dance. And then there's my completely opposite, but loving, fraternal twin brother and his life journey that inspired me to look into the therapeutic nature of things. All of these catalysts guided me on my 'path less traveled' journey through drama school at Syracuse University, professional acting across the country, living and working at a yoga and health center, and eventually landing at Lesley University for graduate studies in Expressive Arts Therapy.
What do you make?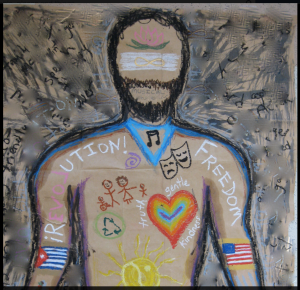 I've conceded that I like to make…everything. My favorite arts modalities are dance/movement, painting, and spoken word, but I have found I enjoy any creative endeavor. The act of designing or creating with the senses really captivates me. That's why some people laugh when they see how I cook. Without knowing it, most of the time, I end up making meals that look like sculptures or paintings. As I have been "rediscovering" at Lesley University, and with Miranda, Art is in the Everyday. Creative expression isn't just a choreographed dance or a well planned oil painting, creativity is how we choose to walk on the street, what colors we love to dress in, the sounds and music that we surround ourselves with. So in essence, everything has the potential to be Art.
Currently, I am studying to be an expressive arts therapist, but I also have ambition to continue to combine my passion for visual art, theatrical performance, education, community building, and yoga into artworks, events, and workshops for/with/and by our Community.
www.StevenHosking.com
How did you get involved in Miranda's Hearth?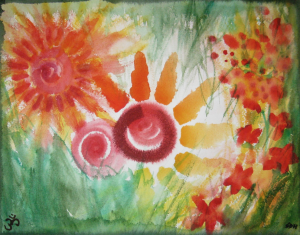 On one fateful evening, I ventured to my roommate's fundraising event for a Women's group based in El Salvador. There, I was introduced to many wonderfully creative, passionate, and artistic people, including Miranda. We discovered we were studying at the same school and had many of the same passions, goals, and luckily, a similar sense of humor!  From that gathering, started many more creative meetings with wonderful people and wonderful food – I have been hooked ever since. Every time I come out to a Miranda's Hearth event I am re-inspired to continue my work in expression, reception, and community building.