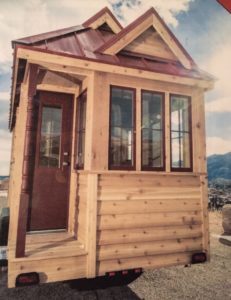 Life always has twists and turns at every corner. My life is no exception. I had been bent on building my own Tiny Home for over 2 1/2 years. I already had fallen in love with Cypress 20′ from Tumbleweed Tiny House Company and attended not only one but two workshops where I bought the plans and began dreaming Tiny. Thoughout the next few years, I had been acquiring the right tools for the job little by little so I wouldn't have a big expense right off the bat. A drill here, router there, etc… But then fate would step in. I knew a separation from my husband was immenant in order for me to happy in this life.
Getting separated is not something that is taken lightly. We have two small children whose lives were about to be torn apart. However, I knew I would be a better mom to them if I'm happy. So, the separation planning began. What was I going to do? Abandon my dream of tiny all together? I knew I would never have enough money saved up to ever build a Tiny, let alone have one.
Fate stepped in a second time. I had never asked my parents for any financial help before and if I "borrowed" any, it was paid back within the terms set by me. I had never contemplated such a big expense but then they offered to purchase it for me, own it, and I could rent it from them until it was paid off. Sort of like rent-to-own and like an Internet free loan so to speak. I knew, this was my only chance to attain a dream that I had for a long time. So I took it!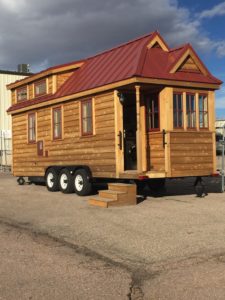 I flew out to Tumbleweed in Colorado Springs and talked to John. I also reserved the Linden in the Garden of the Gods RV park to make sure I could live Tiny without a question before speaking with him. You can see that review in an earlier post.
While I got to tour a finished 24′ Cypress, I knew…this was my home! My dream could actual be happening? While I wasn't hammering the nails, installing the composting toilet, putting up the cedar siding and installing the Windows…I knew I could trust Tumbleweed to do an exceptional job.
I had researched other Tiny Home builders who were less expensive than Tumbleweed but I didn't feel a connection to their homes. That's HUGE if you are going to spend at least the next twenty years in a Tiny! You MUST love your home to be happy in it.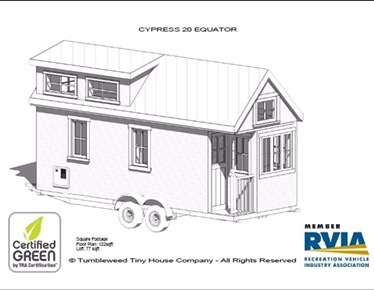 For the next few months, I designed (with John of course) to create the dream I had on paper. Contracts, drawings, layout, options, ect…they were decided on before anything happened with the actual building of it. Appliances had to ordered, flooring, Windows, doors, etc. you would believe all the electrical and piping there is in an actual Tiny!
How do I know this? Tumbleweed has a valuable service that no other has. I got updates at least 4 times a week with pictures on my build as it was happening! That's right…framing, Windows, siding, roofing, electrical, insulation, plumbing, installation of the appliances, paneling, and all the finishing touches like trim and hardware. It was an amazing journey but if anyone asks what the process was on MY house, I am able to confidently tell them. It also helped me to connect to the house before its arrival! OR, if something happens that needs fixing, I know where all the electrical lines were laid! I could have been more happy with the process and proud to own a "ready built" Tumbleweed!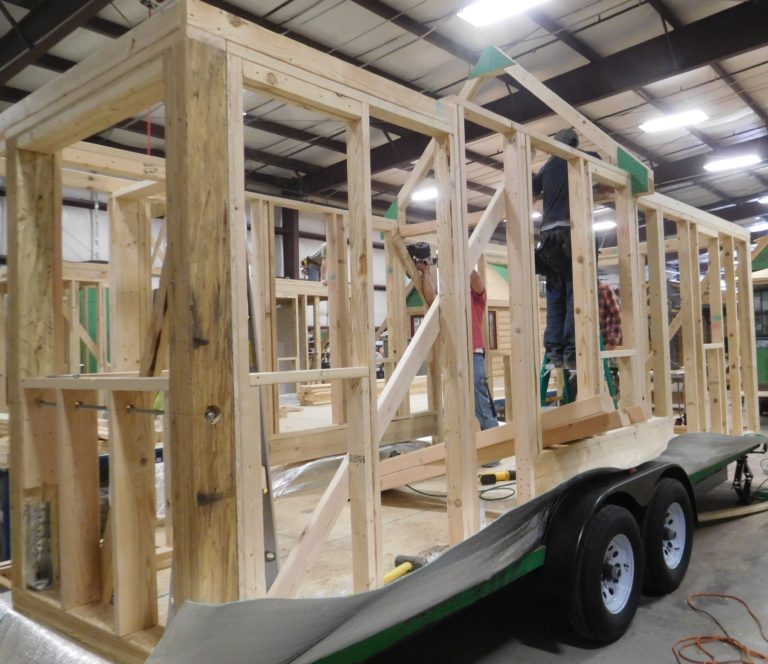 Now to say that everything was a smooth process…it wasn't! There were errors from Tumbleweed like the Windows that were installed in the loft were not the ones on my plans, the desk/daybed option was almost forgotten, the mini-split wouldn't fit were it was originally planned, but these were communicated with a phone call and options for resolution. You have to expect there's gonna be changes during any type of construction and my Tiny was no exception. You have to roll with the punches and make the best change for you and your lifestyle.
So on June 1st, the tiny made the trip from Colorado Springs to Rhode Island and delivered on Jun 4, 2016. I was calling Sophia, my Tumbleweed Concierge, when I got my first glimpse of my actual Tiny coming down the road to me! I had waited in town for Scott, the driver, to help guide him to the RV campground which was my delivery spot. I must have screamed her ear off!!!! I couldn't believe it was finally here!!! My home was right in front of me!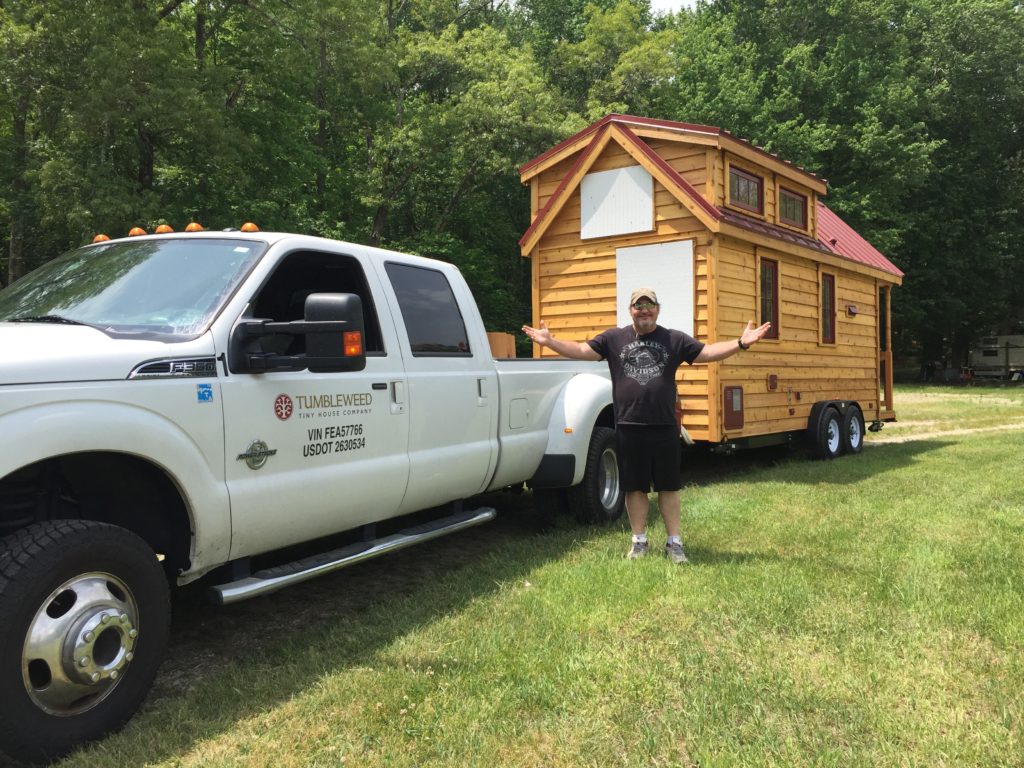 After I arrived at the RV Campground and Scott showed me how to set everything up. When he left, it was time to do my happy dance! I'm a Tiny House owner and although it was not my intended route…I still arrived in style. I don't have to worry about the construction or of the roof is going to leak…it know it was done right and that "peace of mind" is worth a lot to me.
I still have a lot to do to "make it my own" as I'm transforming the completed Tiny into my Modern Japanese home. Tiny's new name…Haruko. Welcome Haruko to my life and I'm sure you and I will have many adventures to come!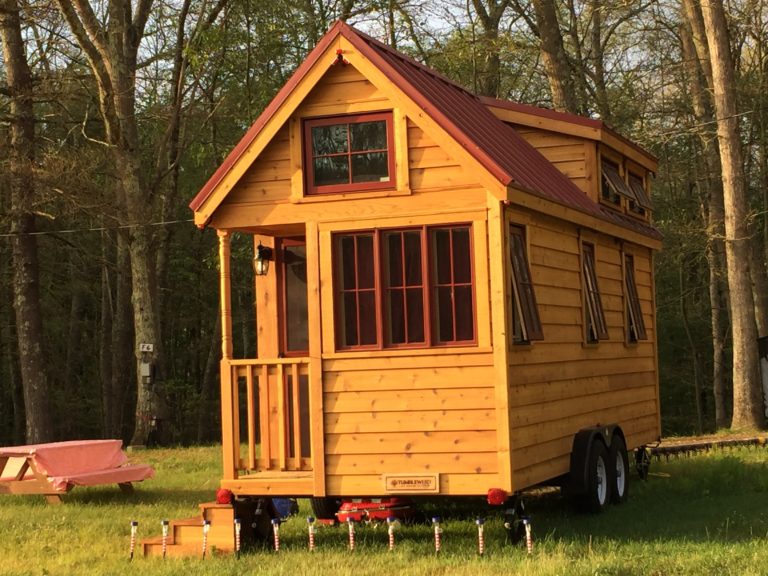 – – –
Written by Lisa Forbes and originally posted on livingthetinyhousedream.com
Meet Lisa and explore her tiny house at the 2nd BIG Tiny House Festival on July 16, 2016 at The Umbrella Community Arts Center in Concord, MA.
– – –