After the first anniversary of Miranda's TEDxTalk on Don't Make Art, Just Make Something, we received this wonderful submission of handmade bracelets by Celida Allen.  Learn about Celida and what she makes in the bio below, taken from her website:
"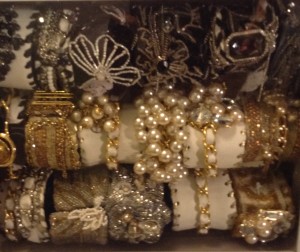 Originally from Dayton, Ohio, Celida is the granddaughter of an Afro Canadian immigrant dressmaker. Inheriting a natural aptitude for garment construction; she was inspired by the respect her grandmother commanded for constructing clothing for prominent women in her community. Mentored by her grandmother, she was introduced to couture fashion when her grandmother gave her a Chanel dress and asked her to examine the construction and reverse design a new one.
By the 1960'the fashion industry had changed, ready to wear was beginning to increase. Most well-known couture designers were beginning to sell their ready to wear garments through department stores. One of the downsides of mass produced clothing is that so called standard sizes do not fit all people. The department stores set up alterations departments to sell their clothing. The employees that were hired were immigrants who were masters in their craft but could not speak English. The Civil Rights movement and the fact that Celida could speak English landed her first job as a seamstress fitter in the couture room of a department store. The first time that store had hired an African American for that position. Celida caught her first glimpse of the term "Global Community" as she served apprenticeships with craftspeople who had worked in the fashion couture houses of many major design labels. She found a way to communicate with them even though she could not speak their language. The relation with them became symbiotic, she communicated for them and they shared their knowledge of skills with her. She learned embroidery from a seamstress, who had trained at Lesage, Lace applique from a German seamstress who made Dior bridal gowns, tailoring from a tailor who worked for Cerutti, and even learned to work with fur and leather from a Canadian Furrier.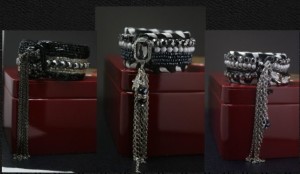 In the 1980's there was another movement that affected the fashion Industry; women became frustrated with the ideal of the confinement of gender roles, and sough to expand their horizons in every aspect of their lives. Celida Opened a tailoring shop in Reynoldsburg, Ohio called "Celida's Custom Tailoring for Women". She participated with others to free woman from the boundless ready to wear market that was so restricting to size and shape, and applied her knowledge of made-to- order mentality of menswear to crafting everyday basics for women.
In 1986 Celida relocated to Dallas, Texas. She opened an Atelier boutique and contracted with high end designer boutiques to do the alterations. Celida developed a "Wardrobe Makeover" marketing plan that developed customers for the Designer boutiques.
In 2001 Celida along with her daughter opened a Vintage Fashion Gallery an upscale vintage clothing store that featured vintage designer clothing.
Now retired, Celida has relocated to Worcester Ma, her love for art and design and her desire to contribute to her community has inspired her to create wearable art from discarded materials and share it with the community."