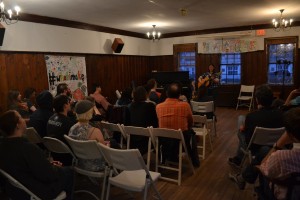 Yesterday over twenty-five people filled The Democracy Center for our monthly Dinner, Art, + Music night.  This month, we featured our very own Hearth Member, the talented Kara Kulpa.  After being snowed out in February, we were stoked to have such beautiful weather for our April event and even more excited that such a great group of people decided to come inside and end their first spring weekend with the community at Miranda's Hearth.
Kara, who spends most of her time performing with other talented musicians and teaching upcoming musicians, took the event as a chance to showcase her original songs.  Her work ranges from solemn and sweet to down-right hilarious.  In between her songs, which she performed on both guitar and mandolin, she engaged the artists with stories about where the songs came from and where else she had performed them.
We were particularly excited when we drew up Emily Tran, another Hearth Member, and the two of them snag The Book of Love together.  There's nothing like watching your community collaborate!
After Kara's performance, we transitioned into a jam with over ten people in it.  From drums to flutes to violins to several guitars, we had a strong group of musicians creating together for at least another hour. It was one of our best jams yet and we can't wait to do it again!
So far, we've upload three videos of Kara's Performance: The Book of Love, Opiate, and The Shy Extrovert.  Share them with your friends and join us for the next Dinner Art, + Music night on May 10th!