On April 22, the Hearth Community is celebrating music, acting, entrepreneurship, writing, woodworking, conversation, grant-writing, massage therapy, and interactive art environments at WhatIMake: 2017!
Get your tickets now for 2 hours of inspiring talks, 4 hours of hands-on workshops, an evening party with live music from Florie Namir, and free breakfast, lunch, and snacks.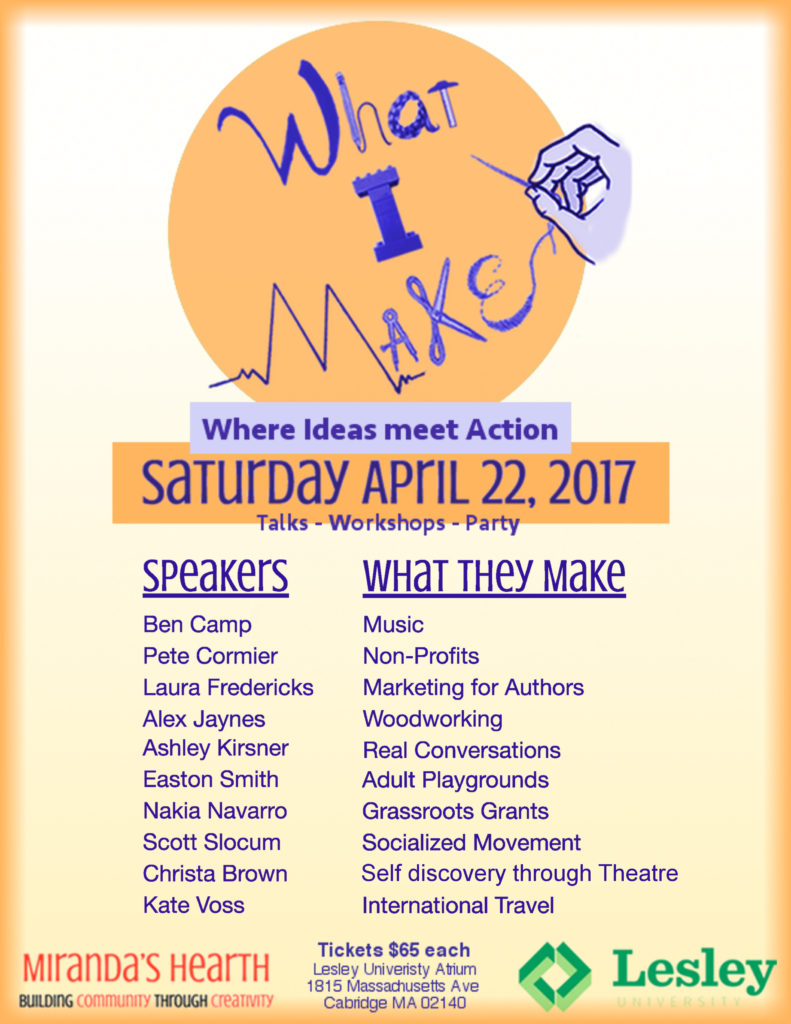 Morning: Inspirational Speakers
Afternoon: Hands-on Workshops
Evening: PARTY!
Tickets cover the morning talks, afternoon workshops, and evening party!
$65 each, all supplies included. Discounts are available for students, Lesley affiliates, groups, Hearth Embers, and Hearth Ambassadors. Email miranda@mirandashearth.com for more info
---
Not sure what to expect? Check out highlights from WhatIMake: 2016 on our Youtube Page!
---
Schedule of the Day
9:30 am – Registration with free breakfast!
10:00 am – Speakers, First Round
11:00 am – Morning Break
11:15 am – Speakers, Second Round
12:30 pm – Roundtable Discussions with free lunch!
1:30 pm – Workshop 1
2:45 pm – Workshop 2
4:00 pm – Workshop 3
5:30 pm – Party with live music with Florie Namir and snacks!
---