#WhatIMake: The Conference
WHEN: April 16, 2016
WHERE: Aeronaut Brewery and Artisan's Asylum
WHAT: Local makers share interdisciplinary talks followed by hands on workshops.
TICKETS: $35 until April 1, $45 at the door
WHO: Local makers from a variety of disciplines
VIEW THE ART – WHAT I MAKE: HOW I MADE IT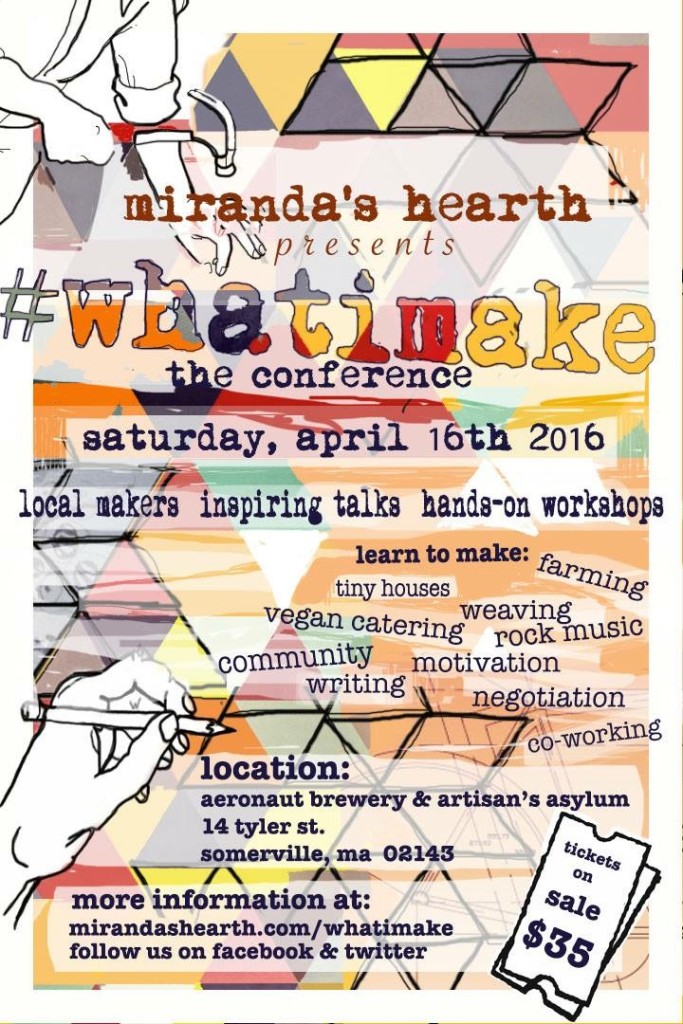 Join Miranda's Hearth for a day full of hands-on inspiration on April 16, 2016. The conference starts with short inspirational talks at Aernoaut Brewery followed by hands-on workshops at Artisan's Asylum. We'll wrap up the day by going back to Aeronaut Brewery for a post conference bash with music, dancing, and interactive art!
CONFERENCE SCHEDULE
Registration at Aeronaut Brewery from 9:30 – 10:00 am
Free coffee provided by J.P. Licks
Talks at Aeronaut Brewery from 10:00 am -12:30 pm
Section One 
Section Two
Lunch break from 12:30 – 1:30 pm
Workshops at Artisan's Asylum from 1:30 – 4:30 pm
Attendees can attend one workshop per section
Section One, 1:30-2:30 pm
Timmy Riordan: Songwriting
Nathan Chow: Juggling
Emily Garfield: Map-Making
Ben Holmes: Business Organization
Section Two, 2:30-3:30 pm
Camille DeAngelis: Private Writing
Wayne Strattman: Glass Demo
Rhonda Fazio: Dye-Making
Section Three, 3:30-4:30 pm
Marika McCoola: Comics
Fadayz: Urban Dancing
Miranda Aisling: Tiny House Discussion
Become part of the Hearth Community and the incredible things that we make!
Help us spread the word about this one of a kind event by RSVPing on Facebook and inviting your friends! 
SPONSORS
Thank you to our business sponsors, Artscope Magazine and JP Licks!
Interested in sponsoring the event? Email us at miranda@mirandashearth.com
This conference was inspired by the book, Don't Make Art, Just Make Something.