written by Hearth Ember, Amy Beth Harrison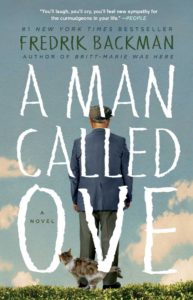 Ove does not make a great first impression. He is someone who seems to care more about where the recycling goes than how someone is doing. He takes grumpiness to new heights and is seemingly without ability for spontaneity or compassion. However, as I got deeper into the book, I began to see there was a reason behind most of his words, no matter how grumpy they might seem. The more you understand Ove, the more you begin to understand what he is really saying behind his terse phrases—I've been labeled obsolete, I'm up against the constant tragedies of life, I'm going to control with exactness what I can control. Ove is also actually very principled. The memories of the expectations of the people who loved him create the boundaries of behavior he will not cross.
The book is a great reminder for all of us to reach beyond the boundaries of what we know about someone, to give them the benefit of the doubt, to try to find out some of their history to understand why they act the way they do. The book also shows that the feeling of being needed can be a strong deterrent to despair and that asking someone to help you may do more for them than trying to help them out.  It also shows how the power of caring for someone, no matter how long ago, can still leave an impression on a person in the present.
I'm excited to hear your impressions of the book at our next book club meeting on  May 24th at the Arts of the Armory Café.
---
The Hearth Book Club meets the fourth Wednesday of every month from 7:00-8:30 pm at Arts at the Armory Cafe. Check our book club list to see what we're reading next and support your local bookstore by buying your copy at Porter Square Books!
Don't have time to read an entire book each month? Join us for Hearth to Hearth: An article discussion group on Second Wednesdays at 8:00 pm!