-written by Hearth Member, Marika McCoola
Seven people braved the rain last night to come out and discuss George Saunders' book of short stories The Tenth of December. The book received rave reviews when first published, hence my decision to add it to the bookclub list. I'm also not a huge fan of short stories, and I wanted to diversify the list this year. As one attendee stated that she generally loves short stories, I'm glad there are two books of short stories this year. (Our second collection, Get in Trouble, by Kelly Link, is the October pick.)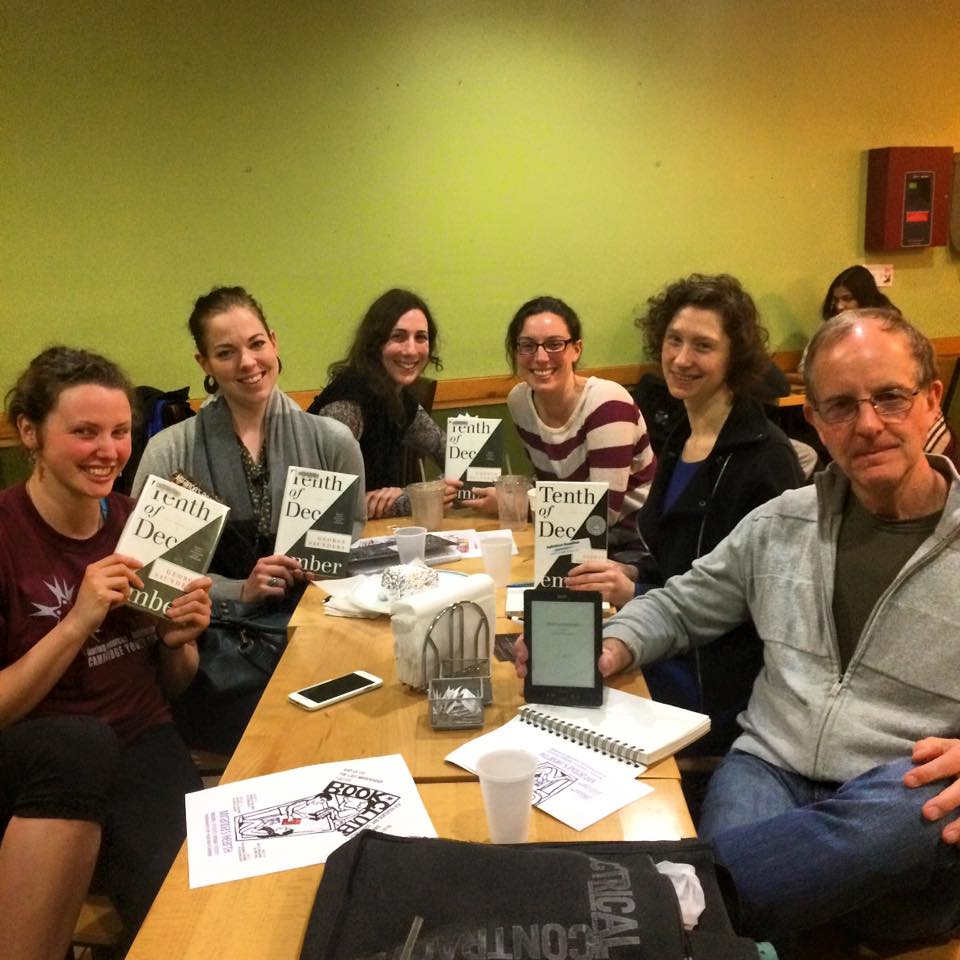 Saunders' stories are dark but with silver linings- they don't end in the worst way possible. However, they are realistic stories because of these terrible situations.
Parenting, mind altering substances, and class issues were all threads running through the stories. Overall, each story is about someone doing the best they can despite difficult circumstances.
One attendee said that each story felt like a writing exercise or assignment- especially the two, two-page pieces. As Saunders teaches at Syracuse University, we speculated that they might have been written as his students were working on their own in-class exercises. This, along with the abstract nature of the stories, changing points of view, and being thrown into the story, made it difficult for many to get excited about reading the book. However, some found that reading the stories as ethical dilemmas or as conceptual art pieces made them a bit easier to access.
An interview of the author by David Sedaris, mentioned by one attendee, is available in the paperback edition of the book but not that I could find online. According to the attendee, the interview sheds light on both Saunders' background and writing process, both of which allowed him to view the stories in a new light. We're all now interested in tracking down a copy. However, if you want to watch a Dutch interview in which Sedaris discusses Saunders' work, you're in luck (thank you, random internet). Chimamanda Adichie's TED talk, "The Danger of a Single Story," was also brought up. You can check it out here.
If you want to dip your toe into this book, the group suggests starting with "SGs" and "Spiderhead." Lastly, we'd love for you to join us next month to discuss Jenny Offill's Dept. of Speculation. This slim novel features some beautiful lines on the first page, which was enough to make me want to read it!