I lead a rather busy life. In addition to running Miranda's Hearth, I work full-time as an arts coordinator and continue my own artistic practice. With so many fun things to do and fascinating people to see, the necessary time for self-reflection is often overcome by dinners and art events. While I greatly enjoy the many moving pieces of my life, I do often find myself missing the ability to take a moment to slow down, even stop, and think.
In some of those dinners that keep me driving all over Greater Boston and wildly gesticulating while sharing intimate life details, I've heard my friends and community members echo the same sentiment: "There's so much I want to do that taking time to just reflect fells unproductive, even wasteful." Which is why when Kara was telling me this time last year how much she missed running an expressive writing group, I jumped at the chance to bring both her experience and that space for reflection into the Hearth.
Kara, a musician who spends her days running around with young children and her weekends running through obstacle courses when she's not playing gigs, is another one of our high energy, high intensity community members. She approaches everything with a frank joie de vivre and wide-eyed curiosity that is simply infectious. But she also takes her reflective practice very seriously. When we were first discussing Write a Passage, Kara was adamant that the hour and a half of writing would take place in silence.  None of that soothing (read: distracting) music for Kara!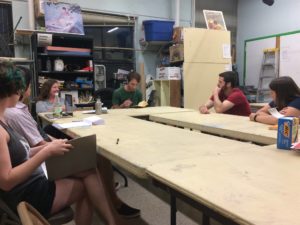 Over the past year, we've developed a dedicated core of thinkers and writers who join us each month to step outside their routine. Like Kara and me, they've found that the monthly practice of sitting in silence and writing together is an important conduit for self-reflection and serenity. Together, we write what we're grateful for, what random thoughts are filling up our brains that day, and get inspired by one to two prompts. My favorite part, perhaps unsurprisingly, is the half an hour at the end of the night when we share what we've written with each other.  It's never required, but every month almost every person shares something because they're just so interested in what their own minds, and the minds of their fellow writers, have created.
We're meeting for the last time this year next Tuesday, December 6, from 7:00-8:30 at the Arlington Center for the Arts (right across the Somerville line on the 77 bus route!). I hope you'll join us to experience the peacefulness of Write a Passage to close out your year with a cleansing moment of thought.