When we were kids, my older sister organized the books in her room in a personalized Dewey Decimal system. Three and a half years younger, my job was to cut all the bits of masking tape to go on the bottom of the book spine so that she could write the appropriate numbers on them. I viewed these organized shelves with reverence, carefully memorizing the empty spot whenever I dared take a book and bring it back to my own stuffed-animal invested room with bookshelves heavily laden with the Box Car Children and Beanie Babies.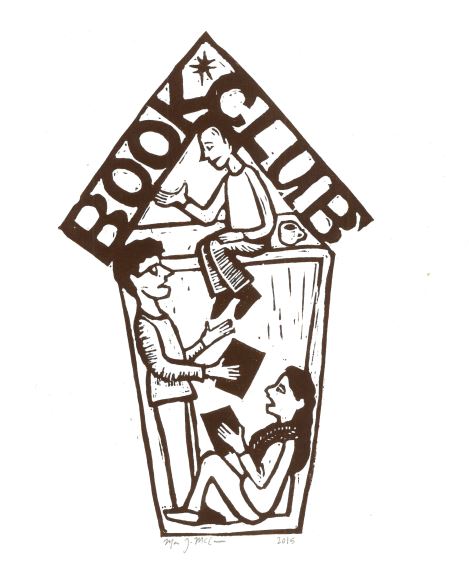 In retrospect, this system was probably the fruit of a mere week of labor which then quickly dissipated, but it made a lasting impression on me: books were important. Throughout all my various homes growing up, books and reading always had a prominent place. My father, who spent much of my early years trekking into NYC, would come home at night just in time to read us poems by Emily Dickinson and Robert Frost in the slow, resonating voice that earned him the role of Eeyore in a college production of Winnie the Pooh. My step-father and mother met at the Borders where he was a general manager and she read the children's stories. My older sister, Mairead, wielded books as a shield throughout school, more likely to be tucked at the base of a tree with a novel than running around the playground.
I read and wrote voraciously as a child, learning most of my vocabulary first through the written word–which led to many episodes of mispronunciation that the rest of my family found highly amusing. Mostly, I enjoyed getting lost in fiction and historical fiction worlds. The characters came alive for me, their dreams, their hopes, and their fears would weave with my own for the duration of the book, and sometimes longer.
When I left home, going first to college and then graduate school, the fictional worlds of my childhood were replaced with textbooks, articles, and non-fiction. I realized that writing was more than just telling stories, it was imparting information and knowledge. For years, I joyfully tore apart book after book on art history, psychology, creativity, world history, education, and more. Stories lay forgotten, a pleasure activity I rarely had time for.
Once I joined the working world, I tried to always keep up with something but the amount of time I spent with pages in front of my nose slowly dwindled. The newest non-fiction book here, an interesting article there. One evening, my eyes searching for anything that wasn't a screen, I looked at my bookshelf and realized that all the fiction on it was worn and comfortable and all the non-fiction unappealing in my search for stories. Where was all the new fiction? Where were the unread stories? The new lives to be uncovered?
I tried the library, browsing book stores, even googling "Best books of the year," but I was overwhelmed by the amount of stories. What would be worth my limited time? Who could craft words and build worlds with equal eloquence? How on earth could I discern dust from gold?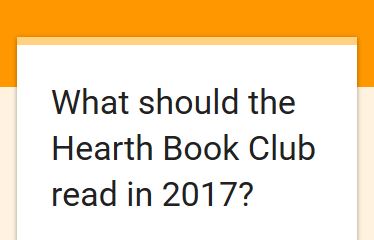 These questions, and the desperate quest for more stories to inhabit my life again, happened concurrently with a desire to expand the Hearth Community. So I fell back on what I have always done best: blackmailing myself. Want to read more? Start a monthly book club and post about it so that you have to read the book. No excuses, twelve books a year. Minimum.
So far, it's been working great. Since the Hearth Book Club started in January 2014, I've read over 25 books. Probably closer to 35 because once I started reading what was "required" I quickly used those narratives as jumping points through the great tide of the written word. Marika McCoola took on the large task of choosing our tomes for us and under her suggestions we read marvelous books like The Selected Works of TS Spivet, Americanah, Station Eleven, and What We See When We Read, all of which I highly recommend–I fully embrace that one of the best parts of reading this much  is that I am once again the person with the great book suggestions.
As we look ahead to 2017, Hearth Ember Amy Beth Harrison and Hearth Board Member Nina Earley are picking up the reins of the Hearth Book Club and we've decided to take the opportunity to try something new. We have this wonderful, active, creative community at the Hearth and we want to know hear directly from you. What kind of books do you like to read? Do you have favorite authors or genres? Any specific recommendations? What do you like to talk about in book discussions? Let us know in the Hearth Book Club Survey so that we can find a series of books that best fit our community. Even if you'll never make it to an event, we still want to hear from you!
Reading together is a large part of our cultural history. From the single book that captured the imagination of an entire generation to the classics that parents today are reading to their children the way their parents read to them, these creative narratives inform both our personal and our cultural narrative. I hope you'll join us as we collaborate to craft the Hearth Narrative!
– – –
The Hearth Book Club will be back in full force in January 2017, fill out our survey and then keep your eye out for our 2017 Book Selections. In the meantime, try out Hearth to Hearth, our article discussion group. We're meeting this Wednesday at Christopher's Pub in Porter Square to discuss Mark Greif's article "Get off the treadmill: living well in the age of plenty"