Now that our tiny house is close to completion, I wanted to share some of our "lessons learned" and advice to future homebuilders.
DO:
…Measure your car's capacity. We spent 20 minutes, in the rain, trying to cram a shower unit in our car. It was an inch too big! We ended up having it delivered which was a much better decision. If your house has a smaller-than-average door, take that into account too when getting furniture and appliances.
…Prioritize preparation and prevention. Thinking "I'll be careful" will nearly guarantee disaster! When painting, for example, take the time to put on paint clothes and tape/cover anything you don't want to mess up.
…Invest in quality where it counts. Knowing where to spend and where to save is tricky, but prioritize safety and solid bones for your home. You can always upgrade interior elements later. If you're considering using premium or super energy-efficient materials, doing a cost-benefit analysis can help determine whether the purchase price will be worth it.
…Take time off in bad weather. It's awful trying to build in -6 degree windchill. I know from experience (and soon realized that making brownies was a much better use of my time). We worked through the New England winter because progress feels good. But you know what also feels good? Not getting frostbite. Fighting the cold and misery was often counterproductive, so in extreme weather I'd recommend working on other aspects of your build such as researching and ordering materials (unless you can easily heat the interior)!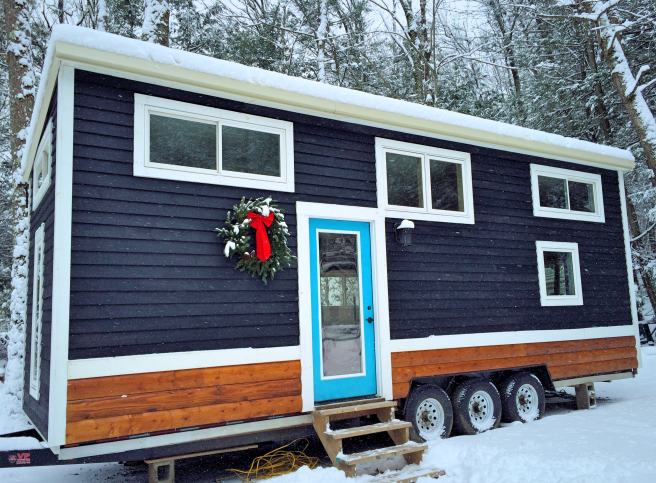 DON'T:
…Shop 'til you drop. During several of our shopping trips for materials, we had only a vague idea of what we needed which made for a stressful experience. Research exactly what you need beforehand, be sure the items are in stock, and try not to overwhelm yourself with too many goals for one trip.
…Neglect other areas of your life. Manage your energy and mood throughout your build. It's not worth sacrificing your health, career, or your relationships for the sake of building a house.
…Hesitate to seek help. While you should try to expand your capabilities, at the same time be realistic. If you're busy or new to construction, I highly recommend seeking an experienced helper/mentor. For us, hiring a carpenter 1-2 times per month not only made our progress go faster, but we also felt more confident and happier working on difficult tasks. Most of our build required at least 2 people.
…Obsess over perfection. For the aesthetic aspects of the home, our mantra became, "done is better than perfect!" You can always change appearances and you probably won't even notice slight imperfections once you're done.
Despite the many challenges of homebuilding, the rewards are sweet: you will have gained practical skills, learned a lot about yourself, and made a special place to call your own. Feel free to connect with us at www.rosehomeblog.wordpress.com if you have other questions or curiosities about our experience!
– – –
Written by Jana Lembke of Rose Home
Meet the Jana and 10+ other local tiny house experts at the 2nd BIG Tiny House Festival on July 16, 2016 at The Umbrella Community Arts Center in Concord, MA.
– – –