I've seen Nick Cave's soundsuits two or three times now, apart from the one I saw nearly everyday while I taught at the MFA.  A few weeks ago I went to the ICA and saw them again, this time with the Boston Critique Group.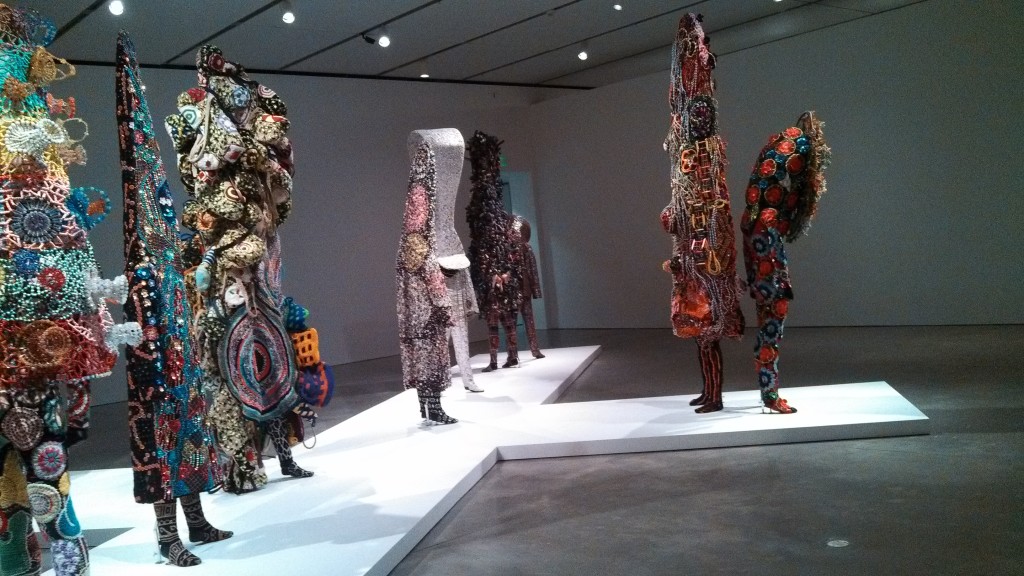 They are, as always, wonderfully bizarre.  These slightly alien humanoid forms that manage to both hide and draw attention to their wearers.  Unlike pieces I've seen previously, the works at the ICA are more sculptural than mobile.  Entire chairs sit on the shoulders of the motionless manikins with wire loops ballooning out of the top.  Yet they still made me wonder what it would be like to wear one.  How, or even if, I could move.
The soundsuits, after all, were originally created as costumes for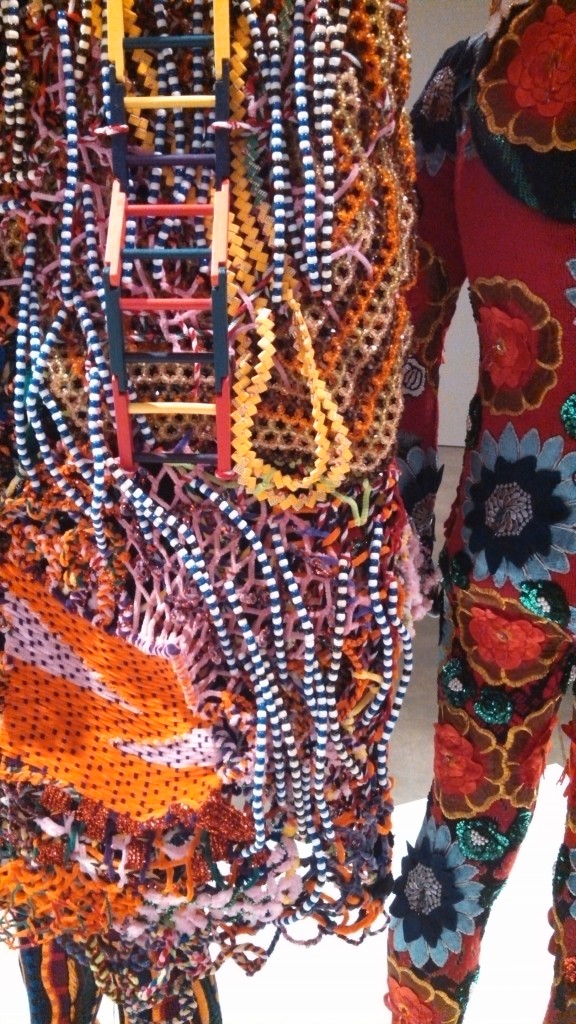 performances.  Nick Cave, a former Alvin Ailey dancer himself, began making them after the brutal 1992 beating of Rodney King in Los Angeles when, as a black man, he felt the need to create a suit of armor to just walk down the street.  Something that would make the wearer larger than life while hiding their race, gender, and class.
Since then, Cave and his studio have created over 500 soundsuits.  The suits are made almost entirely out of found objects, pipe cleaners and buttons, crocheted blankets and plastic baskets, gum wrappers chains and stuffed animals.  Originally, they were created to click and clack as the wearers moved, creating a sound barrier in addition to the visual.
The closer you look at one of these hulking creatures, the more you recognize.  I couldn't help but start to wonder about the people who used these objects before Nick Cave and his studio swept them up.  the child who loved the fur right off of the now slightly creepy bunny, the grandmother who crocheted the blanket for a baby who is now an adult.
The accessibility of these stories, and of the concept behind the soundsuits, is what draws me to Nick Cave's work.  With contemporary artists, I often find that I can either read about their concept for hours but I would walk right by it in the museum or I could stare at it for hours but would never read about it.  Nick Cave is one of the few artists who manages to do both, which is perhaps why he's made so many sounds suits and is now moving on to found paintings.