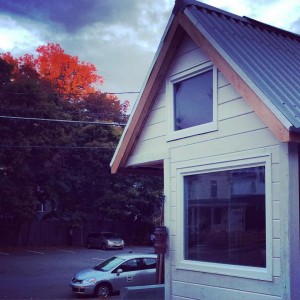 It's been a beautiful two weekends to work on the tiny house, although the temperature has been dropping quickly while we're out there hammering.  On Oct 10 and 11 I was, oooooonce again, stuck at home due to illness.  Thankfully Tiny Home Helper Rebekah Owens and Hearth Members Nat Bearg and Jaclyn Wood stepped up to keep the project moving. I can't even imagine what people do when they're building on their own, I wouldn't be able to make it without these guys!
While I was out of commission, Rebekah finished trimming out half of the dormer roof, getting all the way to the ice and water.  While she was up there, Nat and Jaclyn continued to work on the siding, both priming it and installing it.
This past weekend, Rebekah installed the Ondura roofing material on the first half of the dormer roof and then finished trimming out the second half.  Nat and I finished siding three of the four walls and got halfway through the fourth one.  Unlike the roofing, which you can work on for hours and have almost nothing visually change, the siding goes up super quick and makes a huge visual difference.  Even better will be painting it!