I grew up in a large home on Cape Cod and assumed I would one day have a large home of my own. It never dawned on me I would love living in a space the size of a Honda Accord.
I moved to New York City after graduating from the University of Massachusetts Amherst to become a writer. I lived in the Bronx with my uncle and visited my grandfather in Brooklyn, as I'd begun working on a book about how he survived the Holocaust. A few years later, wanting to get the "living in Manhattan" bug out of my system, I looked at apartments. But rents were astronomical. A friend told me about a studio for rent on the Upper West Side. The location was perfect. "But," my friend warned, "it's small."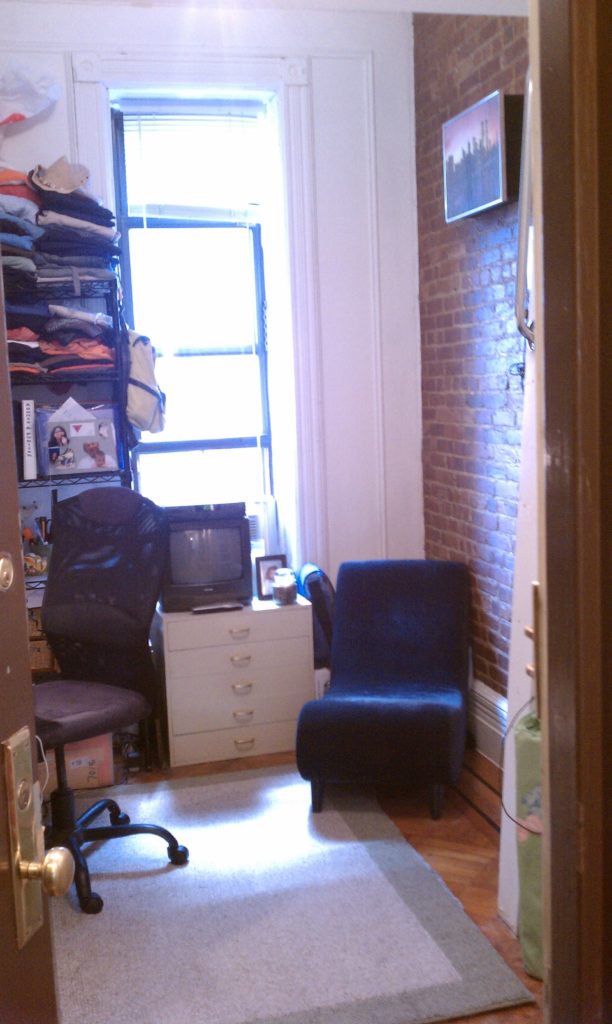 Turns out, my friend was wrong. The studio was smaller than small. It was 90 square feet. Having worked as a professional organizer for years, I knew I could make it work. Plus the low rent meant I could quit my job and finish the book. The decision was a no brainer. My plan was to live there one year, then move to the burbs.
The first night I had a panic attack in the loft bed from the mere 23 inches between the mattress and the ceiling. While pacing the small room, wondering how to get out of the lease, I thought about the conditions my grandfather lived through. My tiny space was paradise in comparison. After that night I never had an issue again.
Then something happened – my life got better. I worked on the book in the mornings and rode my bicycle in the afternoons. With fewer expenses, I was able to have more experiences. Stress melted away.
When that first year ended, I didn't want to leave. So I didn't. I wrote an article about how to live in a tiny space. Then I heard from a woman who made videos of tiny spaces around the world. Eight months later the YouTube video she made of my space went viral and I became the face of tiny living. Ironically, my life got larger, all from living smaller. My grandfather's book sold around the world and people thought he was a hero. That topped even being on Good Morning America.
When strangers began asking for advice on decluttering and praised my philosophy about "living large" in a small space, the idea for a book was born. It would be about how living small made my life larger, but would also be a "want-to" guide, motivating others on how to "live large" in any size space.
Ultimately, I was evicted from that tiny apartment when the landlord found out I was illegally subletting. My grandfather suggested I buy a place and sent me the down payment. When I thanked him, he said, "Sweetheart, you lived in a shoebox so you could write about my life. Now it's time I help you enjoy yours." To honor him, I try to live large every day.
– – –
Written by Felice Cohen, author of"90 Lessons for Living Large in 90 Square Feet(…or more)"
Meet Felice and several other local tiny house experts at the 2nd BIG Tiny House Festival on July 16, 2016 at The Umbrella Community Arts Center in Concord, MA.
– – –