-written by Hearth Member, Ryan Bonaparte
There are plenty of artists around and chances are if you don't identify as one, you know someone who does. If you believe in the importance of art, then you know how important it is to find a way to support them. However, it's not always clear how to best do that. The most obvious way is to fund them directly, supporting their expenses and paying for their work. If only it were that easy. Obviously, the vast majority of us don't have the resources to make that happen. However, there are a number of other ways to provide support that don't require being a multi-millionaire.
One of the easiest ways to support an artist is with your time. Taking the time to go out and attend their events, whether that be a concert, an exhibit, or a book signing, is a great way to let them know that you care.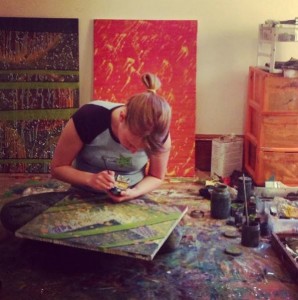 Although the artists you know may be extroverted in nature, much of their artwork is created in a solitary environment. Whether that's in the music studio, or in front of their computer in their home office, they spend time with their thoughts and their emotions crafting their work. Sharing that work with the world takes courage, and having people show up rewards that courage with commitment. Being an artist means sharing vulnerable pieces of yourself with the world, so that others can experience what they've created. Seeing you there, smiling and silently (or not so silently) cheering them on will remind them that there's always someone there enjoying their work.
As a patron of the arts, also remember that you don't need to attend every event. Sometimes we feel as though we aren't good friends if we don't go to every reading, book signing, conference, and small gathering. People's schedules are regularly filled, and most artists realize that everyone can't go to everything that they do. In fact, it's even exhausting for them!
Spreading the word about their work is another incredibly important way to support artists. While each artist brings something unique to their work, very rarely is the medium they share it in a unique one. There are millions of musicians, painters, writers, craftsmen, inventors, etc. out there. Each is utilizing a similar form, but each has a different story to tell and a different emotion to convey. Without exposure to an audience that will appreciate it, the millions of other activities available will crowd out an artist's work. There are so many avenues for entertainment; artists must fight for attention, even with people who would love to experience it. So by providing that exposure and showcasing what the artists in your life are capable of, you help them immeasurably.
Opening your network to artists is also a great way to help in connecting artists looking to grow and develop. Just look through a day of your Facebook feed and I guarantee that you will see half a dozen posts of friends and family engaging in artistic pursuits. If you can think of connecting just one pair of them, you may help spark an amazing collaboration. Know a photographer and dancer? They could create a book telling stories through still movement. How about a writer and actor? The next biggest screenplay could be the product of their meeting. While artists have plenty of communities available to them, sometimes their isolated nature can prevent them from truly branching out. That's where you can come in.
There are a number of ways to work with artists to further their goals. Whether that's with your time, your efforts to spread their work, or the connections you bring them, you can make a huge difference in the success they see. The best way though, is to take a few minutes to ask an artist, "How can I help you?"