– written by Hearth Member, Matthew Reese
Last night was a delight. We had another good turnout for our continuing lively evenings of waltz at Miranda's Hearth. I don't think I'm ever going to get tired of it, nor will I ever want any of these nights to end.
This month was particularly special. Clayton Clemetson—the pianist in our marvelous house band, The Whom—is sadly leaving for a time, as he travels and then enrolls in college up in Vermont. While I have every confidence last night wasn't his final Waltzdays gig, it will be a while before he can play for us again. He and Kathleen Fownes, along with Cory Staats' impeccable sound, really embody what the Hearth is about. They consistently show up and pour themselves wholly into what they make. Then they give it away, sharing with us some of the best waltz music one could wish for. Clayton went home after the first Waltzdays and wrote over ten original waltzes in a week. Last night, Kathleen thanked everyone who keeps the Hearth going. I replied, "Like you guys."
One of the mantras for Miranda's Hearth is "consistency builds community." Community involves individuals who are steadily committed to doing life together. However, sometimes it's not so tidy or clear-cut. People are whisked away from time to time, just as other members can arrive unexpectedly. This might make community seem more like a shaky, non-committal conglomeration of people who meet when it's convenient. But meaningful human connection is not that simple, nor separable. Community is about people having a place among other people. Once established, that place is not easily dissolved. Others may, and must, fill the roles left by a departed member, but the place remains. They can always come back to their place they left behind.
Clayton has a place at Miranda's Hearth. Even though his adventures will prevent him from playing Waltzdays for an unknown amount of time, we hope he will eventually come back. We'll be saving his seat at the Hearth until he does.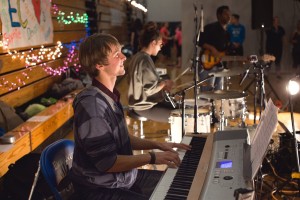 ---
Although last night was their last Waltzdays, The Whom will be playing with Cory at Aeronaut Brewery THIS FRIDAY April 29 for the What I Make: How I Make It Gallery Reception at 6:00pm. Come on out for fascinating conversations, good beer, and fabulous music!